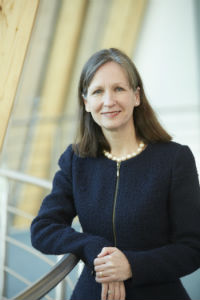 Business schools around the world are constantly adapting to try and stay ahead of the curve. One measure of that success which is increasingly important for MBA applicants is the return on investment (ROI) a program can offer.
In the QS Global MBA Rankings: Europe 2019, Durham University Business School is ranked impressively high for ROI, with only six schools in Europe achieving a better score.
So, what about the MBA program at Durham ensures students receive value for money? To find out what the school is doing to keep their program ahead of the competition, we spoke to Dr Julie Hodges, Associate Professor in Management and Associate Dean of MBA Programs at Durham.
Durham as an institution
The truth is that businesses, companies, and even business schools need to make changes to succeed. Dr Hodges sees the value of change on the MBA program at Durham for students and the institution.
She says, "We always look at how we can improve and evolve our full-time MBA program, particularly based on what's happening in the global environment. It's about how do we ensure we're evolving the MBA along with current changes like technology, social elements, demographics, and future trends globally.
"We ensure students get the opportunity to apply what we teach. They do a strategic business project where they work with a company and apply what they've learned.
"They're working on a real business issue identified by the company; the student works with the company to scope out that issue, look at how they'll engage with stakeholders, come up with recommendations, and present their recommendations to key stakeholders often at a board level."
Changes to curriculum
Sometimes schools see an opportunity to develop organically, but in other instances, they'll make a definite change to the program to improve its quality. Durham did this recently after realizing a greater range of specialisms were needed.
Dr Hodges says, "We reviewed the MBA within the last year or so and introduced pathways (specialisms). Students take core modules, but then can specialize in a specific pathway in entrepreneurship, consultancy or technology.
"Students can take two modules as part of the pathway, and it enables them to develop their skills. If they're interested in consultancy after their MBA, the consultancy pathway focuses on building knowledge, theory and consultancy skills.
"If they want to move into technology, we see if there's a link between a business project and technology. These pathways have been really popular, and I think it's because of the flexibility of the MBA.
"Technology focuses on what's happening in the world and the acceleration of technology advances is very popular. If there's something that happens on a global scale and we feel a need for a pathway, then we would review it."
International training
Business is now, more than ever, a global enterprise. To get ahead of the game, having contacts, partners, and relationships around the world are a must. That's why an international element to an MBA shouldn't be underrated.
Dr Hodges says, "We have an international prospectus. The students do a module which involves learning a second language, and then they spend some time abroad.
"If they're learning Spanish, they'll go to Spain to ESADE Ramon Llull University and have lectures, but they'll also visit a number of companies too. Or if they're learning German, they'll have classes at Mannheim Business School and visit a number of German companies.
"It's about giving them not just the classroom experience, but real-world experience as well. They're not going on an MBA tourism visit – it has a purpose. We encourage students to develop their networks when they're overseas, it's all about finding out how business is done there."
Graduate advice
As a senior fellow of the FME, Dr Hodges offered some advice for graduates entering the ranks in business. She says, "I think it's often good to get experience in smaller companies before entering global companies.
"An MBA is fantastic because it provides a general foundation in all business subjects. I would tell recent graduates to go get three or four years' experience and then look at doing an MBA in the sector they're in.
"We have MBAs who have been engineers, been in the military, in public and private sectors. A full-time MBA is a great way to take some time out to increase knowledge, experience, and I think it gives people confidence and helps expand their network."