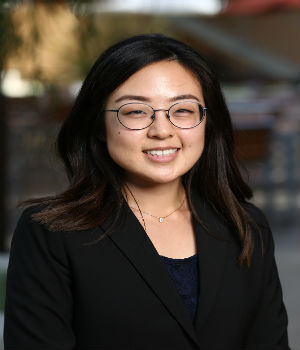 Hana Su is a student at UC Irvine, Paul Merage School of Business.
Before starting her MBA studies, Su had three years' experience under her belt and held a Bio-technician position at General Atomics in San Diego, CA.
She talks with TopMBA.com about her reasons for choosing her MBA at UC Irvine and what she's learnt at the business school so far.
What were you doing before starting your MBA/Masters?
I graduated from the University of Southern California (USC) with a Bachelor of Science in Chemical (Biochemical) Engineering. Upon graduation, I began working as a R&D Bio-technician at General Atomics in San Diego, CA. General Atomics is a medical device manufacturer, and my role was to optimize and validate our diagnostic assay products. My responsibilities included communicating with the FDA to submit our products for 510(k) clearance, traveling off-site to install or troubleshoot applications at client or partner laboratories, and proposing application parameters for customers working with our technical support team. One project I thoroughly enjoyed working on was the commercialization of a cardiovascular biomarker, Lp-PLA2 Activity, which helps to predict coronary heart disease in patients.
What factors led you to pursue a graduate degree?
As an R&D biotechnician, I lead the product development and commercialization of a cardiovascular biomarker product. Essentially, I saw a product from start to finish, which afforded me the opportunity to collaborate with multiple departments including Quality Assurance/Quality Control, Packaging/Labeling, and Research & Development. I enjoyed managing different teams and helping to improve the process efficiency of cycling a product through different stages of commercialization. Because of experiences like this, I wanted to pursue an MBA to learn how to better manage people and equip myself with knowing financial models to drive profitability in the healthcare and/or medical device industry.
What tools did you use to research programs and universities?
I took advantage of Open Houses and/or Program Overviews which gave me a general understanding of the program curriculum, strengths and weaknesses, and alumni network. I used school websites to get facts about admission statistics, average test scores, class sizes, percentages of where graduates went to work post MBA program. For UC Irvine I attended the Admits Weekend where I was exposed to a typical lecture, an overview of the program, and peers recently admitted to the program. Attending the on-campus events definitely gave me a better sense of the program, and it helped me to make a more informed decision about the program I wanted to attend.
What factored in to your final choice of where to study?
Because I want to stay in the healthcare industry, I wanted to be in a city surrounded by well-known, top-tier healthcare and/or medical device companies, which is a perfect description of Orange County. UC Irvine is close to Medtronic, Beckman Coulter, and Johnson & Johnson, and so many other renown medical device companies. After my great experience meeting with a student ambassador, speaking with the admissions faculty, and getting a glimpse into the program by participating in the on-campus events. I sincerely believed the Merage School of Business would best suit my personality, background, and specific career goals.
What do you most love about the school/program?
One of my favorite aspects thus far is my interaction with career services. Leaat and Qilin, our career advisors, have done an exceptional job ensuring we have the foundation to be successful in our career and/or internship search. Beginning on the first week of the program, we went through a series of self-assessments to gain a better understanding of what motivations are important to us and what career would best tailor to our individual personalities. Since then, we have participated 1-2 times a month in "Proseminars," where advisors walk us through different networking tactics, cleaning up our Linkedin accounts, holding career nights, refining our resumes, and reviewing our cover letters prior to application submission. Career Services has been great in helping to prepare students for any and all professional environments.
What is your favorite thing about the city/campus?
I'm originally from Los Angeles, so I love that Irvine is close enough to LA to see family and friends but far enough away to avoid the narrows streets and heinous traffic. In recent years, Orange County has been booming in culture and entertainment. With slightly more affordable rent than its northern neighbor, OC has great eateries and breweries in Downtown Fullerton and Newport Beach. Since living in Orange County, I've also taken advantage of a Disneyland annual pass, so I can pop into The Happiest Place on Earth just to get a beignet or mint julip.
What is your best experience on the program to date?
I really appreciate that the core classes I'm enrolled in now as a first-year has introduced subject matter to me I wouldn't have learned by staying in my previous career role. Currently, I'm thoroughly enjoying my quantitative classes, "Managerial Finance" and "Financial Reporting." Since I didn't study these types of courses as an undergraduate and I didn't cross these topics in my industry experience, I didn't know I found these topics so interesting. Taking these classes has given me a better sense that my target career role may be in corporate finance.
What do you plan to do once you graduate?
I want to enter a career as a Financial Analyst in the healthcare industry. My target companies are medical device companies in the Orange County area such as Beckman Coulter, Johnson & Johnson, Edwards Lifesciences, and Medtronic. I want to take advantage of my background in the medical device industry as a value-add to my future employer. I'm excited to incorporate the tools I'm learning, such as how to accept projects given net present value and utilizing managerial accounting principles to drive profitability. Additionally, it's very important to me to give back to the local community, so I'm very excited to partner with my future employer to participate in charity events and fundraisers across the nation.