To learn more about ESCP Europe Business School's admissions process, and the best advice for applying to business school, we spoke to Elaine Seabrook, a marketing and recruitment executive at ESCP Europe's London school.
The Master in Management and MBA in International Management are two of the more actively recruited programs at eh school. And with institutions in Paris, Berlin, London, Turin, and Warsaw for the multi-campus business school, it truly is a global business school.
What will stand out in an application?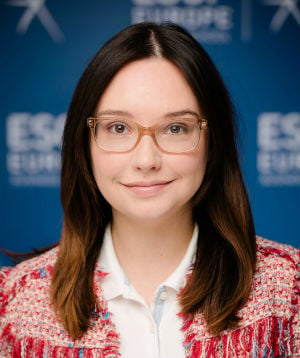 Authenticity and personality are two overlooked characteristics often present in successful applications. A great application allows our faculty to get to know the applicant and what's really driving them to undertake an MBA program. 
What should I not worry about, or worry less about, in my application?
We advise applicants to worry less about instances of particular shortfalls, whether it be a grade or a score that isn't representative of the applicant on the whole. It's more important to demonstrate your strengths and also your strong potential to excel on an MBA course and benefit from it.
What are some of the common mistakes you find in applications?
Often we find applicants duplicating content from their resumes or other supporting documents, which sends the wrong signal. For example, if the application form asks you to write about your work experience don't just copy your job description from your resume, re-think your experience in light of what the MBA program is about.
How important are the extracurriculars?
At ESCP Europe, we weigh all portions of the application and so in our view, extra-curricular activity, and how our applicants spend their time outside of work and academics, are very important to us.
How carefully do you examine the essays, recommendation letters, etc. over test scores and GPA?
We carefully consider all elements of our candidates' applications. Essays for example can help applicants demonstrate potential in a myriad of areas. We always encourage applicants to send full and thorough applications where time and attention has been devoted to each portion.
What advice do you have for applicants on how to check the status of their application?
We recommend all prospective candidates get in touch with us whenever they have questions or worries about their application. Our admissions service is thorough and very communicative, however, all candidates will be contacted at each stage of the admissions journey.
How can applicants put together a cohesive application? What are the major components to gather when starting an application?
The most important elements to consider when putting together an application are our basic eligibility criteria: your previous degree, English language proficiency, work experience and test score. An applicant's first port of call should be gathering the right documents to ensure these requirements are met. Once collected, applicants should work through the application form itself, including any other additional documents required, and leave enough time for various rounds of proof reading.
How do I secure letters of recommendations and who are the best people to write these?
We encourage applicants to reach out to previous faculty and professional colleagues to secure references. It's always best to contact your references personally to request a recommendation letter. Many application systems – including ours – allow for automated reference requests via email, so it's key to ask for permission prior to filling this portion of the application.
When should I start the application process? And how many schools should I apply to? 
We always advise candidates to start preparing their applications early in the admissions cycle to ensure enough time to collect test scores and other required documents. It's certainly advisable to apply to more than one school and we encourage applicants to research each school and their admissions procedures thoroughly as they vary from school to school.
How do I prepare for my admissions' interview and what can I expect?
We advise applicants to prepare by practicing, but also by focusing on understanding why they are pursuing an MBA program. Our jury panels want to spend some time getting to know you as a prospective student of the school, yet they also want to ensure the program is the right fit for you and indeed, so is the school.