Articles with tag 'GMAT/GRE'
'
Are you wondering how your GMAT score would compare to your GRE score? Read our detailed GRE to GMAT or GMAT to GRE conversion formula to analyse your performance.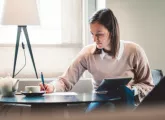 Studying for the GMAT is hard work and requires a variety of study methods. Read on to learn about a new technique for GMAT prep to help you attain a high GMAT test score.
Want to know the acceptance rates of top US business schools? We've got you covered.