Articles with tag 'sustainability'
'
TOP
MBA
sustainability by date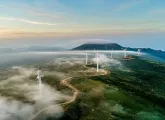 There's many advantages to doing an MBA - and one of them is the ability to develop an entrepreneurial spirit. As climate change dominates the news, many entrepreneurs have made the decision to focus on sustainable businesses. Here's six sustainable start-ups founded by b-school graduates to keep an eye on in 2020. 
Reports on the impact that farming has on the planet and climate change are revving up, making consumers more aware of their daily food choices. Alongside popular plant-based foods, new ways of growing crops are emerging every day and kick-starting a revolution in food production all over the world. Here's how they'll impact business and education in the new decade. 
You can learn a lot about an organization or founder during an inteview - and these are favorite interviews from 2019.