2020 has been a trying year for industry, with businesses and global economies impacted by the coronavirus pandemic.
Given this backdrop, it's hard to imagine a more challenging time to launch a new business, but recessions typically lead to a spike in new business ventures and this year has been no different.
TopMBA caught up with Thomas Jacob and Andries Bruggeman, co-founders of sustainable advertising brand Hector. to find out what launching a business during a global pandemic is really like.
The men behind the product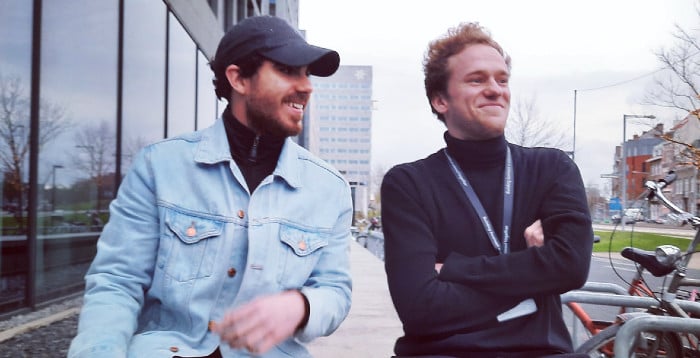 Thomas Jacob and Andries Bruggeman (pictured) launched Hector. in April 2020 during their Master's in Innovation & Entrepreneurship at Vlerick Business School.
Both Thomas and Andries note the hands-on approach of Vlerick's master's program, namely the incubation program where students are given a mentor to guide them through early business development.
Students can also do their thesis on their company project, which Thomas says allows them to not only undertake necessary research for their company, but also launch it commercially as a student – something he claims is the ultimate safety net. He added: "The network that came with the business school helped us acquire our first clients and narrow down our initial business model."
But one of the most useful elements from their time on the master's program was taking part in the Vlerick Entrepreneurship Fund. Thomas said: "We were able to receive a significant "piece of the pie" and will use that money to further optimize our operations."
Advertising comes in all shapes and sizes
It's easy to forget the vast mediums of advertising we see every day – from websites, billboards, TV ads, to the humble coffee cup. But why is advertising on something as small as a coffee cup so effective?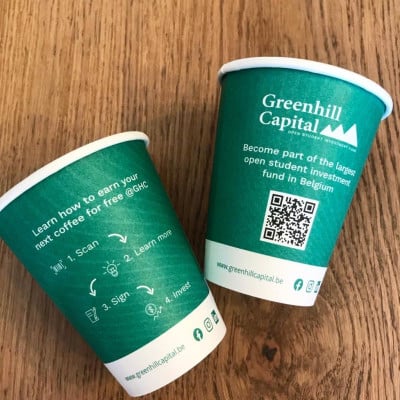 The company's USP is that it offers innovative and sustainable ways to advertise. Thomas said: "We give them the opportunity to advertise on fully biodegradable cups that we then distribute for free to targeted high-traffic locations such as coffee shops, schools, hospitals, airlines and events."
The co-founders say their brand provides a higher exposure time than any other traditional advertising channel – 13 minutes on average, the time it takes a consumer to drink a standard hot beverage – which is what makes it so effective.
Thomas says the coffee cups – known as walking billboards at Hector. – create high engagement by placing conversation topics in a consumer's hand, stimulating word-of mouth.
He said: "A cup will be seen by six to seven other people (as well as the consumer) on average, which is great for reach purposes.
"[The cups] also allow us to connect companies' offline marketing campaigns with an online touch point by adding a 'phygital' link (QR code, coupon code…) on the cups, a feature that is very much looked for by advertisers."
The importance of innovative advertising
We're inundated with adverts every single day. So much so, that companies have had to get a little more creative to grab our attention.
Matching companies with their target audience is essential for advertising companies today – an advantage Hector. says it has when compared with traditional out-of-home advertising like banners, billboards and fliers.
One example Hector. uses is that companies recruiting new grads on a monthly basis now have a new way of reaching their target audience in a direct way at universities.
Thomas said: "This represents tremendous value for companies, especially during Covid when most physical job fairs are cancelled.
"On the other side, universities will receive free cups for their students and staff in the process and help expose their students to job offers that might interest them thanks to our medium."
Hector. also helps institutions reduce their cup-related expenses to zero, as well as their sustainability footprint since the cups are fully biodegradable and in line with the upcoming 2021 EU directive tackling the ban of single-use plastic.
The idea behind the company
Digital advertising is often considered as the holy grail of advertising given how many hours we all spend online, but Thomas says less than 10 percent of word-of-mouth activity happens in a digital environment.
He said: "As companies try to advertise in ways that allow them to reach the largest number of interested customers, digital channels are, as a result, clogged up with advertisements, reducing the attention span of the consumer.
"We thought there was a better way to help companies target their audience more efficiently and for a longer period of time, while innovating in the out-of-home advertising landscape, all of that in a sustainable way."
Utilizing a pandemic
Thomas told us: "We saw this pandemic as a blessing in disguise (purely from an entrepreneurial perspective of course). Given the fact that the workload of employees was drastically reduced, we were able to schedule a lot of calls to present our concept and value proposition.
"From a 'receiving' perspective, the fact that we are delivering biodegradable cups for free was obviously very well received in these hard times."
Even during the madness of 2020, Thomas says the team at Hector. were thrilled at how quickly they were able to scale.
He said: "We secured funding and were selected by the Start it @KBC incubator which is providing us with mentoring guidance and free office space for the coming year.
"However, the last lockdown saw us postpone two major campaigns scheduled for the end of 2020 to 2021. But it allowed us to take a step-back and focus on optimizing our operations."
Looking to the year ahead, Hector. is focusing on filling up the 2021 calendar in the 40+ locations in its distribution network.
Alongside this, the company is working on implementing end-to-end data collection processes as well as transitioning toward more creative content creation. Thomas added: "We are also very excited about institutions and events gradually reopening again, which will be of major value for us."