"Now that we're living in a technologically driven world, it's business schools like us who are already prepared for what the future holds," says Leila Guerra, Associate Dean of Programs at Imperial College Business School.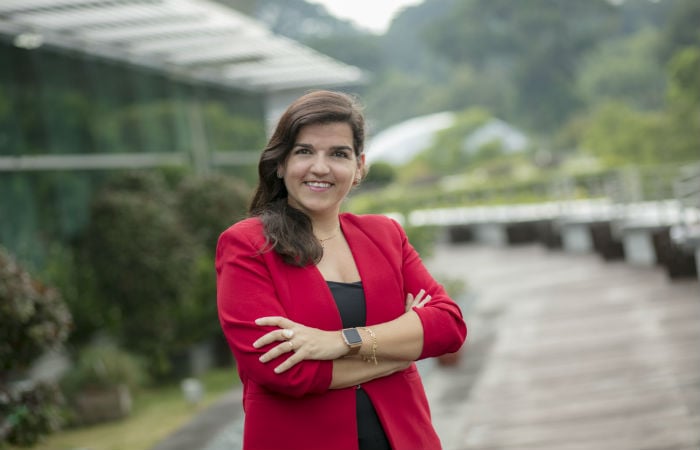 Imperial College Business School - which ranked 19th in our QS Global MBA Rankings 2019 - is known for being a research-driven institution, and Guerra and her team continue to develop the curriculum for the ever-changing world.
Appointed in March 2018, Guerra says, "Imperial College is the perfect area for innovation, it's so linked to what's happening in the market right now.
"You have the technological drive which is part of the DNA. When we see other business schools that are thinking how to adapt to new times and be technologically driven, we already have that at Imperial."
Program makeup
There are four different program 'families' as they're known at Imperial for students to choose from: the MBA family; the finance family; the management family; and specialized degrees.
Guerra says, "We answer the demand for management skills as well as specialized skills, which is a reflection of what's happening in the career market.
"You do need management skills and leadership skills, but recruiters are expecting highly specialized workers that can provide content in very specific areas, for example, climate change, public health, or business analytics.
"The commonalities between them are innovation and entrepreneurship so all our programs are very innovative in the way they're structured, in the content and the way they're delivered."
It's usual for business schools to have a niche curriculum, or elements to set them apart from the vast number of establishments around the world. Imperial is no different.
Guerra says, "I think we're one of the leading business schools in the world on EdTech." Defined as 'a study and ethical practice for facilitating learning and improving performance by creating, using and managing appropriate technological processes and resources,' it's no wonder Imperial is one of the business school excelling in this type of education.
Guerra continues, "The EdTech team is one of my teams, and whenever we want to innovate there are resources surrounding us to do something on, say, artificial intelligence.
"You can see in our online MBA we've just recently launched online business analytics, which has been quite successful. And there are more online degrees coming up for us."
But how does Imperial's cohort compare to other schools? Guerra says, "We have a lot of nationalities in the classroom. We try to work on global awareness and we have strong global partnerships – our partnerships in Europe and China are very strong.
"We're looking at exploring other regions too: South America, some regions in Africa, and in India we want to do more."
The STEMBA
As technology increasingly shapes the way we live, business schools need to ensure future leaders are taught the tools.
Guerra says, "Imperial is part of a very STEM-driven community, and it's a bit different to other business schools.
"We joke it's more of a STEMBA than an MBA; my peer at MIT said he was having a very similar scenario.
"In comparison, other business schools in the US or the UK, who are more management driven, haven't invested as much in their technology or innovation – especially digital innovation – approach. Five years ago that was less relevant, but now we're living in a technologically driven world, it's business schools like us who are prepared for what the future holds, and what kind of skills recruiters are demanding."
Global business education
Guerra speaks four languages, has lived in eight countries and has senior roles under her belt at London Business School and IE Business School. She says she always knew she wanted to be international, and so it's no wonder her passion and knowledge for business and innovation continues to grow.
She says, "I think there's a big change happening right now, a big shift in higher education where you see Asian business schools significantly increasing the number of students from Asian markets.
"US students are suddenly going to Europe, Asian students aren't as interested about going to the US or Europe and prefer to stay in Asia."
Guerra adds, "Over the next five years we're going to see a lot of geographic changes on the demand of business schools."
Ethical thinkers
In recent years, MBA participants have seemingly evolved with their reasons for choosing an MBA. More students are focussing on how their studies and subsequent careers can effect change for themselves and also the industries they want to be a part of.
Guerra says, "As the number of entrepreneurs increases, there's a need for business schools to define how we can help entrepreneurs  – especially Gen Z and millennials – when they're not necessarily local; how to support them so they can have their start-up ideas be successful anywhere in the world.
"Our students tend to have quite significant interest in impact entrepreneurship and social entrepreneurship and how you can support them."
She adds, "90 percent of the start-ups our students are creating at the moment have a social impact element.
"I think we will come to a point in five to 10 years where we won't differentiate them anymore, we would expect them all to have the social element."
Ethical MBAs involve projects such as building bridges to ensure farmers in Africa can cross rivers to sell their produce and the creation of chip dips from 'ugly, unwanted vegetables', and it's no different at Imperial.
Guerra says, "I have a student who has created a company called Snackchange which takes on food no longer used at companies. It's kind of an AirBnB for food in a way.
"Other start-ups focus on diversity and LGBT awareness and how to eliminate those last barriers that still seem to be there. Hopefully, in five years from now this will just be the norm."