Blog Posts with tag 'diversity'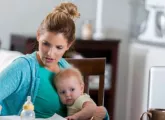 Discover the ways business schools can make their campuses and programs more supportive of MBA moms and thus encourage more women to enroll.
Jen Bower experienced unconscious gender bias first-hand in her MBA program. Here are her tips if you find yourself in a similar situation.
Diversity in business is a huge factor for the ever expanding global business world, and Ryan Hickey explains how MBA diversity is crucial for students.