Blog Posts with tag 'Why MBA'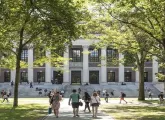 Even though applications to some of America's top business school have been declining, doing an MBA in the US might still be worth it. We analyze three reasons why.
Soft skills are more important than ever before. Developing skills like teamwork, listening, and problem solving during your MBA will ensure success in your post-MBA career.
Wharton's MBA careers report has been released for 2018, discover how an MBA from Wharton impacts on your salary.