Blog Posts with tag 'Why MBA'
Soft skills are more important than ever before. Developing skills like teamwork, listening, and problem solving during your MBA will ensure success in your post-MBA career.
Wharton's MBA careers report has been released for 2018, discover how an MBA from Wharton impacts on your salary.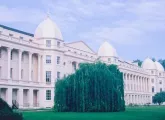 I was able to attend qualitative and quantitative MBA classes at London Business School as a fly on the wall, and this is what I learnt.