In a ranking table dominated by US schools, the second most-represented country in the rankings is the UK, with nine online MBA programs featured this year, including four in the top 10. The UK has long been one of the most popular countries for undertaking a full-time or executive MBA but is now proving to be a leading provider of distance and online options as well.
You can expect world-class teaching at all the institutions in the UK listed in the rankings, with the added advantage of their home campuses being in a country renowned for its role as a global business center, particularly in the fields of finance and technology.
So, what institutions made it into the top three in the UK? Read on to find out...
1: Imperial College Business School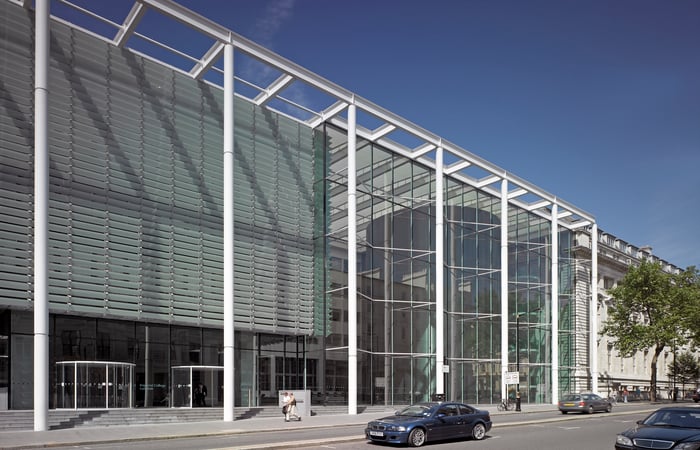 The online MBA program at Imperial College Business School, Imperial College London is ranked top in the UK, and second globally. It's a 24-month course, and the fees for the upcoming intakes are £35,600 (approx. US$46,329).
You're required to complete four pre-study modules: an accounting primer, a mathematics primer, quantitative methods, and a finance primer. There are four core module periods, then electives and an optional Global Experience week, an optional Final Project, plus the Capstone Business Game. This is a seven-day, on campus compulsory module where students take part in a unique business game simulation, analyzing the innovative needs of a large multinational and developing a business case for the company to grow. Each core and elective module, aside from the business game, lasts 10 weeks.
The Global Experience Week gives this MBA an international edge, as the cohort travels to another country for an intensive, week-long trip to explore a new culture and business in an international context. Recent destinations have included China and Vietnam.
The online elements of the program utilize The Hub, Imperial's bespoke, award-winning virtual online learning platform. The Hub has carefully adapted the full-time on-campus program for online delivery. Assessment is through a combination of group and individual study. Leila Guerra, Associate Dean of Programs at Imperial College Business School, is keen to emphasize how the online MBA's innovative teaching methods prepare students for the next step in their careers:
"We prepare our students not only on how to adapt but actually how to lead and manage creatively in a technology-driven world. Employers recognize in our students the expanding fusion between business and technology. Globalized teamwork, leading in a virtual environment and exposure to disruptive technology are just some of the skills highly demanded by top companies around the world, which is why our MBA students graduate with the expertise and knowledge to get a head start in their next career move."
As you would expect from such a highly-ranked program, Imperial's online MBA has quite strict entrance requirements. You would usually need a minimum of five years' relevant professional work experience, although this can be lowered to a minimum of three years' in exceptional circumstances.
In terms of academic achievement, you will need at least a 2:2 honors (or international equivalent) in an undergraduate degree. The English language requirement is a minimum IELTS score of 7.0 (or equivalent). However, you don't need a GMAT score to apply.
To give you an idea of what to expect from your fellow classmates, around 84 percent of the most recent cohort of 127 students are international, 39 percent are women, and they have an average of 11 years' work experience.
2: Warwick Business School
The Distance Learning MBA at Warwick Business School has been running for over 30 years and is extremely well-established in the online learning marketplace – ranked fourth in the world, and second in the UK.
Students attend two campus-based Warwick Weeks, combining lectures, seminars, group and networking activities at the Warwick campus. Group work is integral to the program.
In addition to the Warwick Weeks, and included in the tuition fee, is one optional face-to-face residential module. You can choose to study in the UK or internationally, with recent locations including Beijing, Ahmedabad, Mexico City and Rio de Janeiro.
There are eight required modules as well as your choice of four electives and a consultancy project. Each module involves around 30 teaching hours, 40 hours of guided self-study, and 30 hours of independent self-study.
The online learning platform my.wbs has a diverse range of learning materials, including webinars, group work participation, communication with lecturers, and multiple-choice quizzes to provide you with immediate feedback to keep you on track. All core textbooks are also online.
Whilst students are expected to complete the program within two years, if unexpected work or family commitments arise, it's possible to extend your studies into a third year at no extra cost. You can even extend into a fourth year, but this will incur an additional cost.
In terms of the class profile, the average student has 13 years' work experience. A massive 92 percent of the current cohort are international students, with a 31/69 percent female/male split.
The application requirements are fairly similar to Imperial's. Students need a minimum of four years' managerial work experience, a 2.1 (or international equivalent) in an undergraduate degree, and an IELTS score of 7.0, or another equivalent English proficiency test. The GMAT isn't required.
The tuition fee for the degree is £32,460 (approx. US$41,194), although an additional £995 (approx. US$1,262) fee will be incurred if you extend into a fourth year.
3: Alliance Manchester Business School
The Global Part-time MBA at Alliance Manchester Business School is ranked eighth in the world and third in the UK. The two-year part-time MBA (with 18-month accelerated pathways) has intakes in January and July. The tuition fees for the UK center are £29,500 (approx. US$37,620), or £26,500 for the accelerated Finance pathway (approx. US$33,794).
The blended delivery of the course includes residential workshops, a live business project and online learning. There are 30 days of teaching spread across six residential workshop, the online lectures are delivered in a dedicated virtual environment, plus discussions and self-study.
Before starting your studies, you have a face-to-face induction at your home center, where you can meet your classmates and the support team, plus take advantage of networking opportunities. The class profile is made up of 87 percent students from outside the UK, 35 percent female students, and an average of 11 years' work experience.
There are over 90 nationalities studying across six global centers (located in Manchester, Dubai, Hong Kong, São Paulo, Shanghai and Singapore). 50 percent of students typically attend a workshop overseas every semester. You can study elective courses at any of Alliance MBS' global centers, and they pay for six nights' accommodation in two locations.
Much like Imperial, there is a group business simulation project, which is based on global business and management challenges. The live business project allows you to explore trends and opportunities for innovation in your own organization, or in a sector of your choice.
In terms of face-to-face interaction, you can expect a total of 17 days of interaction (in your home center) in your first year of study, and 13 days in your second year in your home center and overseas (for electives only).
GMAT or GRE scores are required, or you can take the university's own Manchester Admissions Test online as part of your application. You must also have at least three years of professional experience, plus evidence of strong career progression and a recognized first degree. An English language qualification is also required, if applicable.
This article was originally published in June 2018 and updated in June 2019