2020 has been a trying year for industry, with businesses and global economies impacted by the coronavirus pandemic.
Given this backdrop, it's hard to imagine a more challenging time to launch a new business, but recessions typically lead to a spike in new business ventures and this year has been no different.
TopMBA caught up with Rhea Singhla (pictured), co-founder of e-Novus, to find out what launching a business during a global pandemic is really like.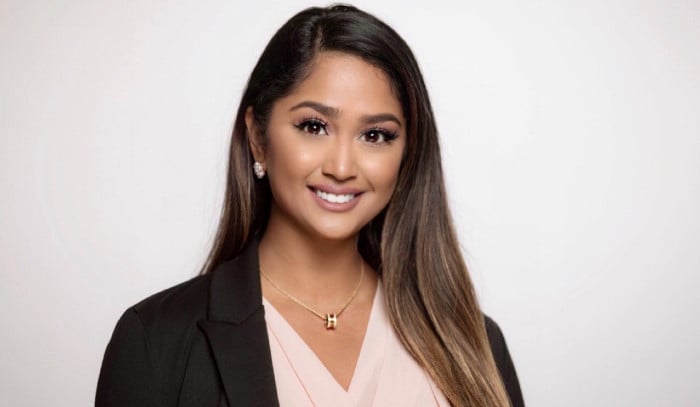 A colorful career
Rhea's eclectic background in consulting, business management and social work drove her to her full-time MBA at Imperial – where she received a full scholarship with the Forté Foundation and Dean's advisory board.
Having earned her biochemistry degree with a minor in chemistry at Virginia Tech, she started he career as a healthcare analyst at CGI Federal to learn the business side of the industry while tapping into the world of consulting.
Rhea has also been the marketing director and business development manager for a clothing startup in New York; consulted for Virtusa; co-founded Chisholm Perennial International Foundation (CPSIF) which teaches children in Africa vital digital and entrepreneurial skills through summer camps – materializing her desire to found a nonprofit.
All of these elements prepared her for her latest venture: e-Novus, an entrepreneurship experience studio, focused on creating bespoke remote programs for the communities of universities, businesses, governments, and nonprofits.
Rhea said: "Our programs, ranging from single masterclasses all the way to monthly hackathons, are designed to foster interdisciplinary and international collaboration between participants, with the aim of empowering them to come up with impactful startup ideas. We aim to help accelerate startup ecosystems around the globe."
The importance of an MBA when starting a business
Rhea says her MBA at Imperial gave her a safe space to test out her idea and take the first step towards creating her own business, crediting the support system found in her peers and faculty at Imperial – especially the Enterprise Lab.
She said: "The MBA helped me to cultivate a rich network of professionals from various industries around the world and led me to find advisors and mentors. All of these things have been extremely crucial to launching and shaping e-Novus as a leader in creating open innovation and entrepreneurship focused programs."
The importance of virtual events today
With countries in lockdown and people urged to work remotely, it felt like this year accelerated the use of digital technologies around the world.
Rhea said: "We are just starting to scratch the surface of digital events in terms of technology and adoption. I'm really curious to see emerging technologies and their strategy to create immersive experiences.
"Many of the younger generations, including Gen Z, have started entering the workplace, they favor the ability to work remotely, flexibly, and have a greater autonomy at the organizations.
"They are more sustainably conscious and realize the implications of large in-person, global events that require getting on a plane and the massive costs behind it."
Rhea added: "Being able to create a virtual experience that is engaging, meaningful, organized, and well-executed is even more critical now than it was before."
The benefits of MBA clubs
Rhea was the president of Imperial's Innovation and Entrepreneurship Club – an organization she says E-Novus spiraled out of.
The club hosted monthly workshops, networking and recruitment events and industry panels. Rhea said: "While we were stuck at home, bored after exams, and deprived of social interaction and networking, we thought, if the three of us felt this way, maybe our peers did too.
"To stimulate our peers in lockdown and make a grand finale to our business school experience, we created a virtual hackathon in May with the support of the Imperial Enterprise Lab."
230 participants from five universities including Imperial, LSE, Harvard, Kings, & UCL took part in the challenge to come up with impactful solutions to help societies recover from the pandemic – with many finding internships, creating new startups, finding funding & cultivating new networks in the end.
Rhea said: "Afterwards, we were approached by other organizations to create similar events, including the Code to Care Challenge, which hosted students from over 18 universities. We also won the Dean's award for Power of Innovative Thinking."
This got the organizers talking about how much they loved organizing remote, global entrepreneurship programs and that is where the idea for e-Novus started. Rhea said: "Daniel Byrd Suarez and Chiara Vivaldi from the IE club were two people that helped me run the global hacks over the summer and are the other two co-founders of e-Novus!"
Rhea credits the IE Club as being invaluable, as without it, she wouldn't have met her two e-Novus co-founders. She says the club helped her become a better leader and helped me learn how to execute end-to-end entrepreneurship experience programs both in-person and online.
Advice for budding entrepreneurs
Rhea says entrepreneurs shouldn't let the fear of failure keep them from pursing their entrepreneurial journey.
She said: "Before starting my MBA, I worked with various starts up and always dreamed of creating my own but was scared to fail.
"During my MBA, I decided to step out of my comfort zone and work on two other startups, both of which failed. Some due to my faults, and some due to unseeable circumstances like a global pandemic. I overcame my fears though, learned from the mistakes, took another risk, believed in myself, and here I am today! It's not an easy journey, but I never met anyone who said it would be!"
But most importantly, Rhea advises picking a venture you're genuinely passionate about and will challenge you year after year.
She said: "I think Steve Jobs said it best: 'The only way to be truly satisfied is to do what you believe is great work, and the only way to do great work is to love what you do. If you haven't found it yet, keep looking, and don't settle.'"