Joyce Russell is the Dean of Villanova School of Business (VSB). The first female Dean in the school's history, she also has over 25 years of experience as an industrial and organizational psychologist, consulting with a multitude of private and public-sector organisations. Prior to her appointment as Dean, she wrote a weekly 'Career Coach' column for The Washington Post, answering reader questions on all aspects of careers and business.
Joined by Cathy Toner, Director of Communications and Marketing at VSB, she talks to TopMBA.com about the business school's innovative collaboration with professional service giants KPMG, how business schools can attract and support a more diverse cohort, and Villanova's unique culture of entrepreneurship and helping others.
Villanova has worked with KPMG to create a master's in accountancy degree, where the company pay for business school graduates to achieve the degree and have a guaranteed job with the company afterwards. Can you tell us more about this program?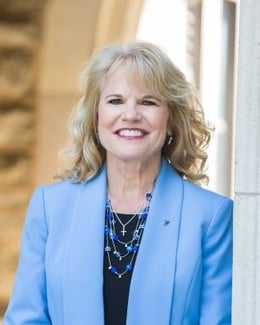 Joyce Russell (left): Three years ago, KPMG did a national search to find schools they could partner with, knowing that they wanted to focus this master's in accountancy on data analytics, using the KPMG tools. They wanted to find a school that would be willing to build the curriculum with the company, and our faculty were very receptive about weaving data into the curriculum, ensuring it would cover the things KPMG are really interested in.
Now, we're finishing off the first year of the program with 26 Villanova students on the course. The students really feel like it's beneficial and the fact they have a job at KPMG waiting for them at the end of the course is enticing.
You mentioned that data analytics is a big part of the degree, why do you think it's such an important thing for students to understand?
JR: Our students, whatever their major, can do a co-major in business analytics so they have a stronger background in data. This is a popular choice, for both male and female students and I think the fact that it's attracted a lot of women is important. Employers talk a lot about the importance of data technology, big data and analytics for the future, so we're going to continue to grow those areas.
What steps are you taking to diversify the students in your business school programs?
JR: One example of this is the number of women's clubs we have that provide additional support and mentorship. The areas where women are less represented in business are typically finance, economics and real estate and we've tried to increase percentages in those areas by having stronger women's support groups, providing more mentoring and building stronger relationships with employers.
We're also focusing a lot on diversifying our population relating to race, by having more partnerships with high schoolers and younger kids, to get them to understand the fields of business and engineering.  
In general, what sort of advice would you give to women getting into business, especially in the more male dominated areas?
JR: I think mentorship programs are important, and we have a very successful alumni mentorship program. One of the things we've done is meet with freshmen to lay out what sort of careers they can have in different areas. The students then start getting involved in these societies, so they have an idea of what's out there.
We also partner with high schools to try to get more women to understand careers in business, so they recognize that just because you have good math skills doesn't mean you should specifically go into engineering, for instance.
What professional development skills would you suggest people focus on the most?
JR: I'd suggest emotional intelligence skills, such as self-awareness and empathy. When I think about self-awareness, it's about understanding yourself and what the situation calls for. There's also skills like persuasion, leadership and ability to negotiate which are important.
Can you share any examples of how the Villanova programs have supported career growth and entrepreneurship?
JR: Professional development is built into our curriculums. When you're coming back for an advanced degree, you may want to advance at the company you're at, switch to a totally different field, or be an entrepreneur. We try to provide support for different types of individual. Some have our entrepreneurs have been very successful and built their companies while in the MBA programs, such as Snarky Tea, which was set up by VSB alum Jenni-Lyn Williams.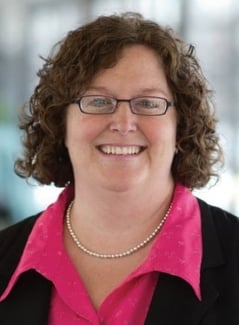 Cathy Toner (right): Jenni-Lyn was working full-time when she was in our MBA program, and decided she had a passion for entrepreneurship which she credits to some of her classes. She decided to quit her job and launch her tea business. Her marketing is very edgy, but I think that it's made her incredibly successful, she's been on Shark Tank and she has two investors now. She says she never would have had the opportunity or thought about doing it without being at Villanova, so it's certainly transformed her and her professional goals.
One of the things I really love about our entrepreneurs is that they help our current student entrepreneurs too. Jenni-Lyn talks about how the faculty here put her in touch with alumni who had launched their own businesses. We have this amazing culture of Villanovans helping other Villanovans, and so Jenni-Lyn is doing that now for other students who are still here.
Do you think the university culture of helping others attracts students to Villanova, and contributes to the innovative companies created by former students?
JR: We have some unique things here, such as our Daniel M. DiLella Center for Real Estate which just celebrated its 10-year anniversary. We're doing a summer program for high school students that are Latino and African American, to entice them into the real estate industry. We have a center for church management which I think is very unique, in terms of providing business skills to people leading parishes.
The innovation culture and the networking culture is something people understand if they're coming here. They know about the culture of helping other Villanovans, and that really entices them because they know that if they come up with an idea, they can get support for that idea. Our innovation and entrepreneurship institute attracts students from all disciplines, and I think that's important for business students because they don't want to just work with other business students.