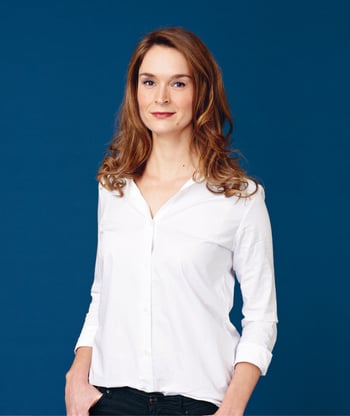 Anne-Charlotte Vuccino is the founder of Yogist, a unique corporate yoga startup. She holds business and international management masters degrees from HEC Paris and the Copenhagen Business School. Whilst on a volunteer trip to Africa with an NGO when she was a student at HEC, she was seriously injured in a motorcycle accident. During her rehabilitation she discovered yoga, which she credits with helping her regain the use of her leg. She speaks to TopMBA.com about her journey from consultancy to starting her own business.
Why did you decide to undertake a master's in management at HEC Paris?
When I went to HEC I didn't have a precise idea of what I was going to study, I just knew I wanted to lead projects in developing countries. I had the opportunity to manage and lead NGO projects when I was there, and I loved that HEC allowed us to spend time in the summer working in voluntarily-led programs in developing countries.
In one of these humanitarian projects I was hit by a motorcycle in Benin, and I caught multiple infections in my leg and nearly had to have it amputated. That was a turning point for me because my desire to make a career in developing countries wasn't an option anymore because I couldn't walk properly, so I had to settle for a very sedentary lifestyle and a very sedentary career as a consultant.
What was behind your decision to switch from your consultancy career to train to become a yoga teacher in India?
I joined a consulting firm in 2009 just after I graduated from HEC, and I was immediately involved with extremely high-level consulting for CEOs and international companies here in Paris.
While working, I used yoga to rehabilitate myself from my accident and it really improved my health. I started giving classes for small groups of friends of mine, young graduates working in banks or consulting who were experiencing back pain and trouble sleeping.
One day, I was with one of my clients, the CEO of KPMG in France. We were preparing for his shareholder conference, and he asked me to give him some tips to stay focused and to improve his posture. For 10 minutes I had him go through some breathing techniques and very simple physical exercises to relieve his back and improve his breathing and his concentration. It hit me that all the presentations I'd written for him for the last six years hadn't had the same impact as these 10 minutes of efficient and practical techniques!
However, I didn't have the courage yet to become an entrepreneur and drop my corporate career and do my yoga training. Instead, in September 2014 I quit my consulting job and joined Webedia. That's where I realized how much we needed something to protect our bodies and our minds from the stresses of work. Developers there were spending up to 10 hours a day sitting at the desk, slouching over their screens and smoking on their breaks. I realized there was no proper offer that could integrate yoga with the modern corporate environment.
I left Webedia in March 2015, with my boss's blessing and assurance that they would be my first client whenever I was ready. I booked a flight to Bangalore and went to see a yoga teacher who specialized in therapeutic yoga. I trained with him for just under two months and got my teacher's certification.
When I came home, the first thing I did was to identify the main tensions and pains that employees were suffering from when working. I identified these and tried to link them with yoga poses and techniques that would help and which could be adapted and used without changing clothes or sweating, and which could be done at your desk without a mat.
I wrote the method and went back to all my former clients, including KPMG, from when I was a consultant and presented them with my idea. They trusted me and gave me my first chance.
How much did your business school background help you when starting your own company?
It's something I can really appreciate when I see other yoga teachers trying to get into the corporate world, who have absolutely no sense of branding or marketing. I realized I had natural instincts from my business school education, I knew I needed to create a brand and create a method that would be scalable and provide a good ROI for companies.
I was surprised by how much the HEC background and network helped in my Yogist adventure. My COO is a HEC graduate, and we understand each other so well, even though he has a very analytical mind and I'm more creative. Our subsidiary in Sao Paolo is led by an HEC alumna from the same year as me and my COO, and everything went so smoothly with her.
The HEC network has been very positive for us because our friends talk about Yogist to their HR managers. We just had a call with a fellow alumnus who is an AXA insurance digital manager now, who is trying to get us to work with AXA as a partner.
What have been the highlights of the Yogist journey so far?
The Yogist journey hasn't been an easy one at all, and the more it grows the more complex and exciting it becomes. Last year I lost my three biggest clients in the same month and I didn't earn any revenue for two months, so I thought that I was going to have to close Yogist. Then, the following month, media coverage brought us 10 clients at the same time and filled our pipeline for the rest of the year.
I think what has been most fascinating is the constant rollercoaster that can take you from total despair to bliss. I've really learnt to let go and see what happens.
Another highlight of the journey has been the ability to use client feedback to tailor new offers and new tools. One client asked me to create an e-learning program that I was then able to sell to my other clients.
The final highlight, which is important for me since I studied international management, is that my job makes me travel. I find it incredible that going to Brazil to open a new subsidiary was part of the job, I had to pinch myself.
What advice would you give to fellow business school alumni who are thinking about starting their own business?
Find a product, service or idea for a project that allies your expertise with something you love. It's not about finding a product that's going to make you rich, it's about finding an idea or project that's going to combine your passion and what you're good at. When your product allies your expertise with passion, that's when you can thrive.