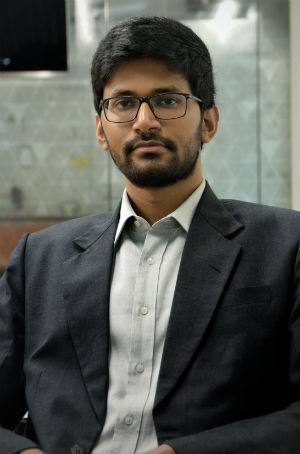 Starting your own business after graduating from your master's program is a brave move. More start-ups fail than succeed in today's economy, and there's no guarantee you'll be one of the lucky ones.
Imperial College Business School, Imperial College London alumni Andrea Bonaceto and Krishna Venkata took that leap into the unknown when they set up recruitment platform HiredGrad in 2014, following their graduation from the school's MSc Finance program.  
Andrea and Krishna experienced the challenges of setting up a company first-hand, but were they able to be one of the success stories? I met up with Krishna one afternoon to talk all things start-up and finance.
The importance of your institution
Your business school is at the epicenter of your graduate education, so choosing the right one is imperative. But why was Imperial the right fit for Krishna?
He said: "I wanted to do a pre-experienced master's in finance and Imperial was probably the best in terms of pre-experience. Post-experience is London Business School, but pre-experience is Imperial so I chose that."
"It's also a very selective school. You almost need a couple of brand names on your CV before attending. Maybe you have to work at Goldman Sachs, Morgan Stanley, things like that."
When considering an MSc in finance, Krishna admits potential students should think about the bigger picture after graduation: "I think they should take their time; even defer their offer. It's a big investment. I think now it's £33,000 which doesn't account for the extra £15,000-£17,000 a year for living expenses, so you have to make sure it's right for you."
The beginning
Although work on their start-up began in October 2014, HiredGrad didn't launch until November the following year, as the ideation and first round of funding took times. But it was an Imperial classmate that helped initially.
"He was a hedge fund investor and someone whom I had a personal relationship with. We went to him with our idea and he said 'OK, I'll fund you.'"
Having a pre-existing relationship may have helped them get their foot in the door, but HiredGrad still needed to be an enticing prospect for investment. Fortunately, their vision for the company proved inspiring.
"As students we felt there was a lack of platform for connecting master's and bachelor's students with smaller firms. You always see J.P. Morgan, McKinsey, Goldman Sachs on campus, you don't normally see smaller firms, so we thought we could build a platform to bridge that gap and aggregate small companies, start-ups and boutique firms."
Trial and error
When launching a company, a necessary part of the process is to try out a few different methods to find the best fit.
Krishna and Andrea trialed three different business models, starting with a subscription model – "like when you pay LinkedIn and they give you database access," explained Krishna.
"We were not able to implement a subscription model successfully. We also tried the typical hiring agency model – you place somebody, you take a fee.
"That worked and gave us initial revenue and we were able to raise funding. But that's not very scalable, especially for the graduate segment."
The reality of start-ups
Having launched a start-up, Krishna told me he now appreciates the difficulties of starting a brand-new venture, admitting HiredGrad wasn't as successful as they'd expected.
"I think it's partly because we were quite inexperienced when we started the company.
"We had a lot of passion, drive and energy, but I think if we'd spent a couple of years in recruitment and then started it, it would have been much more successful."
Admitting HR wasn't their strong suit, Krishna thinks their eagerness to start their own company may have caused them to be hasty.
"I think when you start a company raw out of college you miss a few things. Like what you're good at, and what you can exceed at."
Although Krishna and Andrea are still equal shareholders, they've stepped back from their position, and a professional CEO has recently been hired in London.
Playing to your strengths
Krishna is now the assistant vice president of strategy and operations in a FinTech lending company in Delhi, which he says he chose because of his entrepreneurial experience and understanding of finance.
"I'm not sure how it is in the UK, but in India, there's a huge section of the population that isn't banked or not included in mainstream finance, and I think technology is a way to bring finance to this section."
Venkata thinks to succeed you should play to all of your strengths, which is why, for now at least, India is the right place for him.
"If I'm working in India, I'm playing to all of my strengths, in terms of cultural fit and understanding of the market."
The bigger picture
So, what advice does Krishna have for budding entrepreneurs?
"You've got to maximize the likelihood of success. If you're maximizing the likelihood of success, choosing something that you're already good at with your immense drive and passion – you're not doing it for the money, you just love doing what you're doing."
Of course, having the right educational background and training plays its part too. Krishna emphasized to me the importance of experience too. "It can be in any firm in your chosen field. Spend a year there get a sense of what you really like and based on that you'll make the right choices when formulating your own business plans."