As the London edition of startup competition IE Venture Day, held on June 5, closes, the winner of last year's event in Lisbon, Margarida Constantino, discusses the challenges of entrepreneurship and her experience of starting a business as she develops her pet care startup.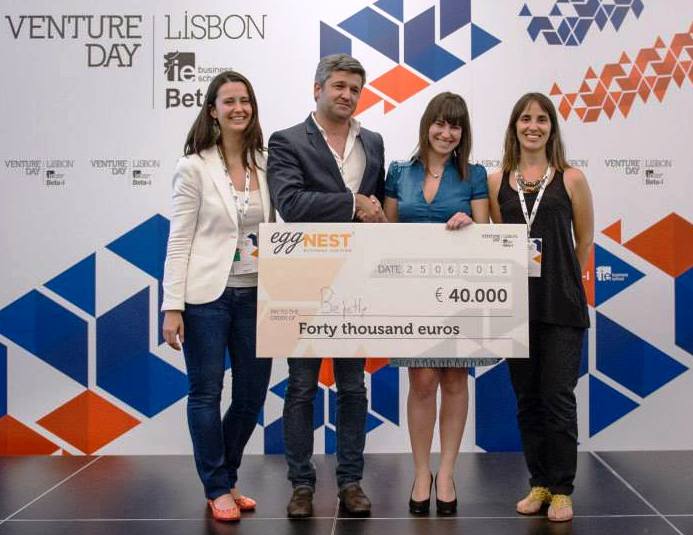 Triumphing in the city in which she grew up was all the more pleasing because it went against her expectations in what she considered a strong lineup of startups. "I was not expecting to win. I went to network and to see interesting people that were speaking that day. It was an amazing experience," Margarida says.
However, by winning the startup competition (as pictured) and the €40,000 (c. US$55k) investment prize from Eggnest, Margarida also became aware of attention reserved for competition winners: "I got to speak with many investors because I won. As with many things in life there's a huge difference between being number one or number two."
Pet care that places a pet's interests first
Margarida, now based in Spain, describes her company, Bepetly, as a "collaborative online marketplace where pet owners and pet lovers get together to provide each other with pet care services."
The pet care market is one that she understands well, having not only grown up with pets in her family home, but also worked with voluntary pet care organizations in her later life.
Her business idea, therefore, isn't intended as being a money-making opportunity for those signing up to provide pet-sitting for absent owners – in fact, measures have been taken to ensure that only genuine pet-lovers can apply, especially in view of the current employment situation in Spain.
Instead, she intends to appeal to a demographic who, like her, grew up with pets and miss the experience, but have not yet reached the stage where they feel they can be full-time owners. For owners, it's a pet care option that avoids having to resort to kennels and catteries – and something she feels the market lacks.  
"If pets are considered more and more like members of the family, the extent to which you want to give your pet a good life as opposed to just giving them food and water increases," Margarida points out.
Looking for change at IE Business School
Margarida developed the business idea during her International MBA program at IE Business School, taking entrepreneurial classes and making use of the school's Venture Lab, designed to support student's ideas and foster an entrepreneurial spirit.
"Back then I thought, 'OK, I think I would be happy doing this every day of my life,'" she says earnestly, adding, "I already had some curiosity regarding the entrepreneurial world – that was one of the reasons why I chose to study here."
However, her main reason for enrolling at IE Business School was to bring about a change in her professional life. As a chemical engineer, she arrived at the MBA with five years of experience in oil and energy under her belt.
"It was a wonderful experience, but I didn't want to continue with that. I find the energy sector very interesting from a strategic point of view, but I was not in love with the operations and day-to-day life," explains Margarida.
She knew that the MBA would help her discover what else was out there and provide the perfect chance to combine the analytical and optimization skills of an engineer with better financial understanding and marketing knowledge.
'You have to love your business idea'
Graduating from a highly-ranked institution such as IE Business School, and triumphing in one of their startup competitions doesn't mean that starting a business has all been smooth sailing for Margarida.
For now, her efforts in making her business idea a reality must come largely in her spare time – she also works with IE Business School's Career Management Center. So, Margarida is all too aware of the challenges of entrepreneurship and the sacrifices one has to make to follow your passion.
"The rhythm, as you can imagine, is pretty difficult to cope with because I'm working, and then I'm also working during nights and weekends," she says, before adding: "That's why all the people that have gone through the entrepreneurial experience say you have to love your business idea and what you're trying to accomplish, because otherwise it will be impossible."
Sometimes she feels that people can have an overly romantic notion of what starting a business will be like from classes alone, especially when MBA programs' case studies tend to focus on the success stories. Indeed, the reality – according to a 2012 Harvard study – is that 75% of startups fail in the US, an alarmingly high figure even if what is deemed to be a 'failure' has been disputed.
Romanticizing the entrepreneurial life also isn't helped by its street cred, as Margarida confirms, "Nowadays it's very cool to speak about entrepreneurship," with its trendy protagonists even enjoying their own term – the 'stipster' (startup hipster.)   
The challenges of entrepreneurship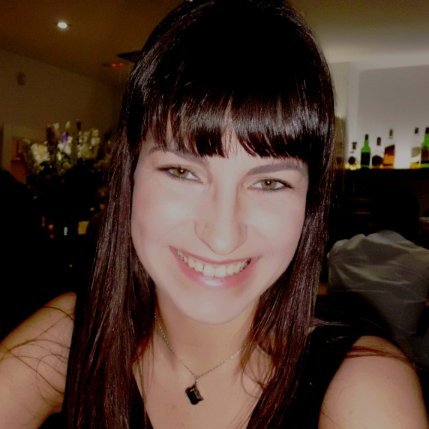 Returning to her own experience of the challenges of entrepreneurship, Margarida (pictured, right) believes her most valuable experience has been the exposure to the realities of starting a business and getting a startup off the ground.
"I think I'm getting to where I wanted to be, but it's really been a step-by-step process," she says, explaining that contending with bureaucracy and red tape can make you lose time where you least expected it.
However, in the two years since she graduated from IE Business School, Margarida has secured approximately €100,000 (c. US$136k) of investments, including a successful application to ENISA, a government and EU backed startup scheme.
She's persevered with the challenges of entrepreneurship, not only because of her passion for the project, but because she's convinced that the market offers a huge opportunity for her business idea, and indeed, for related startups.
Entrepreneurship advice
To any others looking at starting a business, Margarida's advice is steeped in realism. She points to the boom of entrepreneurs in Europe as evidence of the fierce competition that awaits. Plus, she has seen the lengths to which one must go to secure investment for a business idea change drastically.
In particular, she underlines the need to move fast when securing initial investments and to perform full market tests at the earliest available opportunity.
"No matter how big the market and opportunity is, if you don't run the test you will not get very far in such a competitive environment right now. You will only convince investors if you have an attractive cost of acquisition and customer lifetime value," she warns.
Margarida is grateful that working at IE Business School allows her to keep in touch not only with the school's entrepreneurial activities, but also with her former industry – in working with students and energy companies on behalf of IE's Career Management Center. 
"It's really great to be doing something that I love and, at the same time, to be able to work on my project," she says adding that, crucially, the team is also very supportive of her twin identity as a startup founder and the work that this entails.