The coronavirus pandemic brought a whole host of challenges to the forefront of our society. With businesses across the globe needing to move to online quickly, the introduction of social distancing measures, and reduced personal contact, the global community is having to adapt to life in a new reality.
Stanford Graduate School of Business held Stanford Rebuild during the summer, giving entrepreneurs the opportunity to tackle COVID-19 head on.
TopMBA caught up with the team members (Evan Quartner; Brian Lee; Amy Xiong; Samuel Thomas; Lauren Wood; Jenna Morgenstern-Gaines) who created the Nightingale telehealth app to find out how their app could make a difference.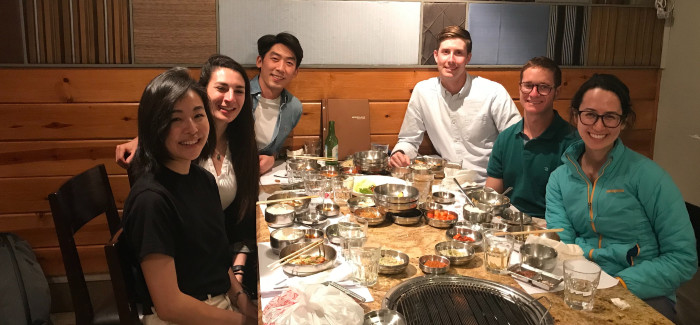 The idea behind Nightingale
Jenna from Team Nightingale says the headlines surrounding the devastation felt by COVID-19 by the home healthcare industry really stood out, because millions of patients need reliable, safe care at home now more than ever. So, Team Nightingale asked how they could improve home healthcare.
Jenna said: "Patients and caregivers told us they often have pressing questions about new treatments or symptoms, but have no way to quickly reach a nurse with the right expertise. Nurses want to help, but there's a critical shortage, with around 700 patients for every one home care nurse.
"COVID-19 has exacerbated the shortage: thousands of nurses have been laid off, quarantined, or injured and desperately need a safe and flexible way to make a living."
These insights sparked the idea for Nightingale, an app where nurses coach patients and caregivers through home healthcare procedures via video-chat anytime, anywhere.
The benefits of Stanford Rebuild
It would have been easy to lose hope during the summer of 2020, "especially in the US where we're facing a pandemic, wildfires and racial injustice" said Jenna.
But participants in Stanford Rebuild said it gave them a community, Jenna said: "Being among hundreds of innovators worldwide, all working to fix different pieces of the pandemic puzzle, was just the kick we needed to keep building."
Stanford Rebuild was launched to tackle the problems associated with the coronavirus pandemic head on. Jenna said: "Instead of folding inward, the leaders of Stanford Rebuild found a way to put their resources and expertise towards responding to the crisis, by supporting entrepreneurs around the world.
"Stanford Rebuild is a model for how everyone with means can help."
Bridging the healthcare gap
Since its inception, the Nightingale team said they've interviewed and tested Nightingale with more than 150 nurses, caregivers, and patients, and are always looking for more people who want to try it.
Jenna said: "The feedback so far has been tremendous - one nurse said Nightingale was "everything on her wishlist to Santa".
An app of this nature greatly aids bridging the gap between home and healthcare – something the Nightingale team says is essential.
Nine out of 10 patients have said they would prefer to receive care at home, not to mention the fact that it's the best way for vulnerable patients to reduce COVID-19 exposure.
Jenna said: "Even pre-pandemic, the fragile home healthcare industry in the US had left millions of patients, caregivers, and providers without the ability to receive or deliver care where they need it.
"At Nightingale, we want to put a nurse in everyone's pocket to finally democratize access and provide quality care at home."
The importance of entrepreneurship today
It's a common apprehension to wait until you think you're ready, for the right moment to take the next step in life, something that can be detrimental to our development.
Jenna said: "MBAs often say they are just 'waiting for the right time' to start their company. Now is that right time.
"The opportunity cost has never been lower, the needs have never been more acute, and the potential for impact has never been greater as COVID-19 continues to upend the workforce, education, healthcare and everything in between. Entrepreneurs move fast, fix problems, and work tirelessly - we need that spirit now more than ever."
Jenna said attending Stanford helped open her eyes to what an entrepreneur really is. She believed to be an entrepreneur, you had to come up with a brilliant idea or game-changing product in your garage, just like Steve Jobs did.
"But I realized being an entrepreneur just means that you've found a problem real people are facing - not one you made up - and that you have the drive to try and fix it yourself."
This is one of the reasons why she thinks prospective students will love Stanford, especially if you enjoy learning and creating. Jenna said: "You have experts in every field, resources galore at your fingertips, a supportive community, and a shared spirit of learning, collaboration, and experimentation."
Stanford Rebuild was a huge success across the board – tackling a real-time global problem, to which the Nightingale team hopes (and believes) there will be more events like it in the future.
Jenna said: "There's a drive now more than ever to solve the world's most pressing problems.
"Institutions like Stanford can nurture that drive by providing infrastructure and guidance for innovators who are ready to do the work."