To learn more about the online and part-time MBA options at the Peter T. Paul College of Business and Economics, University of New Hampshire we spoke to senior program support assistant Cynthia Plascencia.
Plascencia assists several program coordinators within the Graduate Programs Office at Paul College. She also works with recruiting and admissions as the first point of contact for new MBA inquiries, and manages social media for the MBA program.
Does your school offer part-time or online MBAs?
Yes, UNH Paul College offers a part-time MBA program and an online MBA program.
What are the costs associated with these degrees?
For in-state residents, students pay US$800 per credit hour, while out-of-state residents pay US$910 per credit hour. Full-time MBA students who are NH residents pay US$39,000, while out-of-state residents pay US$46,000. Additional fees and cost breakdown can be seen on our website here.
How long does it take to earn the degree? Is it at my own pace?
Students complete their MBA degree in two to three-and-a-half years depending on how many courses they choose to take per term. We offer five terms per year and the majority of students take one to two courses per term.
What are the pros and cons of doing an online program?
The flexibility an online MBA offers students who work full-time is a real benefit. Our online courses are structured so students can do readings and complete assignments after work, in the evening, during lunch, etc. It's also beneficial for students who have to travel for work and can't be in the classroom.
One challenge we hear from students is about learning to manage their time and hold themselves accountable for studying. The flexibility the program offers also means a student must independently set aside time to study, and that can be challenging for some students. Others miss being in the classroom, so we offer online students the opportunity to take face-to-face classes mixed in with their online courses as their schedule permits.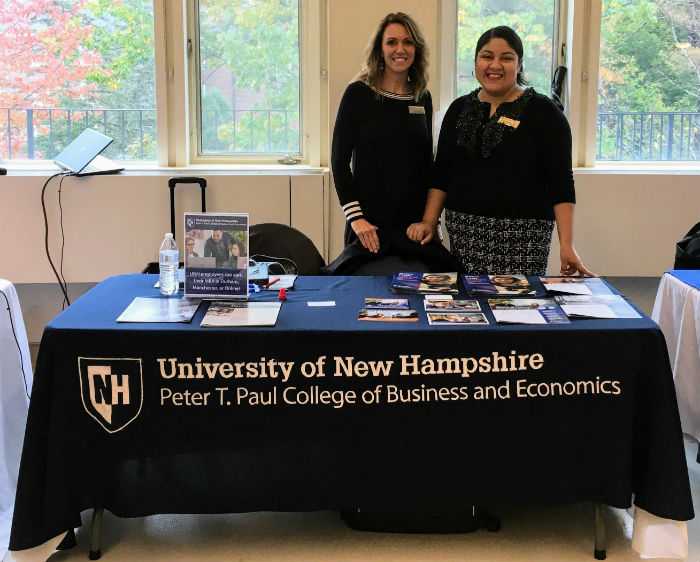 How different are the full-time and part-time programs?
Our full-time MBA is a cohort-based program completed in one year, with students taking four courses each term starting in the fall. They take all their core courses together in our Durham campus, and can take their electives online or in evening classes. The full-time MBA students also participate in two residencies, one in NYC as part of their finance course and one in China as part of their international business course.
Our part-time MBA program can be started in any term, and students decide how many courses to take at a time. Part-time students take core courses one evening a week in our Durham or Manchester campuses, and have the option to take electives online. They can also participate in the residencies so long as they take the required courses and pay an additional fee.
What does work-life balance look like with the different full-time, part-time, and online programs?
The part-time and online MBA programs are geared towards working professionals who want to earn their MBA while working full-time. Classes are offered in the evenings and online to accommodate their busy schedules.
The full-time MBA is a full-time job in itself and requires students to dedicate a year to earning their MBA. Students take their core classes as a cohort Monday-Thursday from 8am to 12:30pm and use afternoons and Fridays to work on team projects and do the readings/assignments for class.
Will my choice of program make a significant difference in post-MBA job prospects and salary?
The mode of delivery for the MBA doesn't have a significant difference in our student's job outlook.
Many of our part-time/online MBA students stay with their companies after they complete their MBA. They work closely with their supervisors to map out career goals and how the MBA will add to their upward trajectory within the organization. 
As for our full-time MBA students, many are career-switchers hoping to leverage their previous work experience and the MBA degree in a new field. We work with them through our Career Services office to obtain an internship during their MBA, and set them up for a successful job search through resume and LinkedIn reviews, as well as networking events.
Do you offer hybrid online and on-campus programs?
We offer a couple of hybrid courses that are weekend intensive. Students come in on Friday to Sunday and complete their remaining assignments online. Approximately 70 percent of the coursework is done online.