Stanford University Graduate School of Business' MBA program earned the top spot in the QS Global MBA Rankings 2019, jumping up from fourth place in 2018. And what really boosted the school's score was its strength in entrepreneurship.
The school's administrators say the students and GSB's dedication to helping people improve core skills for leading any organization – big or small, established or startup – set it apart from other MBA programs. In fact, it's one of the most rigorous and difficult application processes in the country. Only 7.1 percent of applicants get accepted making this MBA program the hardest to attend in the US.
A new mission
Like many other MBA programs, Stanford GSB aims to stay relevant and help students recognize the role they can have in addressing great societal challenges. This philosophy is sweeping the business school world as institutions try to prove the MBA is still valuable.
"Stanford MBA students care passionately about making a positive impact," Yossi Feinberg, the John G. McCoy–Banc One Corporation professor of economics and senior associate dean for Academic Affairs at Stanford GSB, writes in an email. "We are dedicated to empowering them to be purposeful and principled leaders who will change lives, change organizations, and change the world."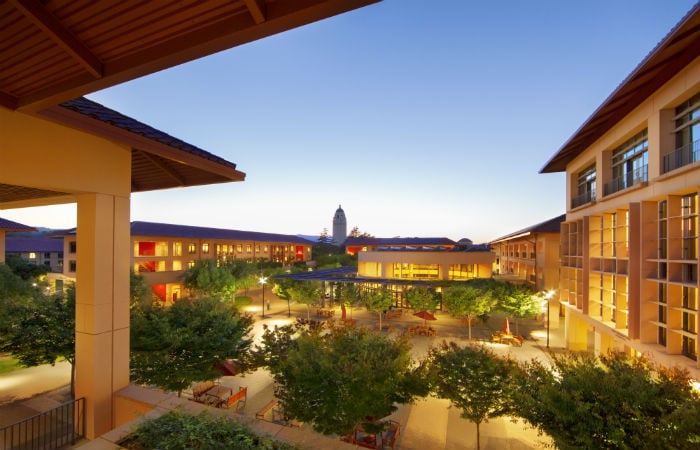 Career prospects for Stanford MBAs
What makes the QS rankings unique is its focus on employability. Stanford GSB is among the brand names in the US that garner attention from MBA recruiters. Part of the school's appeal is its vicinity to the greater university and Silicon Valley, a well-known dynamic bastion of innovation and technology.
"Students also have access to the deep academic resources across Stanford University's seven world-famous schools, all within walking distance of each other, and all set against the energy of Silicon Valley, one of the most dynamic economic centers in the world," writes Feinberg. "Upon graduating, students join a close-knit alumni community that continues to help them develop both personally and professionally throughout their lives."
A dynamic curriculum
But it all begins in the classroom, with Stanford GSB's curriculum described as forward thinking. Its focus allows graduates to succeed now and, in the future, writes Feinberg.
"The school's curricula are grounded in scientific methodologies and cutting-edge frameworks," he adds. "It includes design-thinking methods to encourage innovative solutions, and leadership development in small groups. The Stanford MBA program includes a required global experience and offers a very wide range of electives aimed at maximizing the learning experience, leveraging the diverse student backgrounds."
Some experts have suggested business schools are stuck in the past, but Stanford GSB has made great effort to take its own advice and innovate while still holding on to timeless aspects of the program.
Innovative teaching
Faculty are among the best in the world, says Feinberg. Many are accomplished,  including three Nobel Laureates, and teaching methods break out of the box.
"The strength of the program is that the learning modalities are designed to maximize the learning experience. Whether it is flipped applied data analytics courses or the hands-on experiential approach to leadership learning, such as the half-century old 'Interpersonal Dynamics' course, or the many courses co-taught by professors and practitioners bringing cutting edge research and best practices together into the discussion, we constantly strive for the most impactful learning experience," writes Feinberg.
Tight-knit community
Another stereotype for MBA programs of this caliber is the cutthroat class environment. However, in recent years, schools have tried hard to instill the ideals of teamwork and collaboration. Stanford GSB says its efforts are working and its campus has always been collegial.
"The highly collaborative culture at Stanford GSB is designed to leverage the proven value of teamwork in order to foster the development of innovative solutions to complex problems," writes Feinberg. "This collaborative environment extends to faculty who regularly reach across disciplines throughout Stanford's seven schools to be exposed to greater diversity, exchange ideas, and be inspired. It is at the intersection of deep domain expertise with the thirst for new ideas and collaboration where breakthrough innovations thrive."
Validating value of the MBA
Many people have been pondering the future of MBA programs, wondering if they can stand the test of time or if their value will remain intact. Some say mid-tier programs could go the way of the dinosaur, but brands like Stanford GSB's MBA are going to make it. Certainly, Stanford GSB itself is optimistic.
"As long as there is a need for well-managed institutions to address pressing societal and global challenges there will be demand for management education," writes Feinberg. "Schools like Stanford GSB that offer a high-touch, transformative experience will continue to meet that demand."