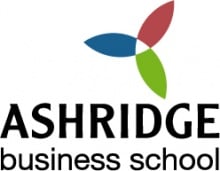 This article is sponsored by Ashridge Business School.
Learn more about the Ashridge MBA program.
Women in business may account for a minority today, but as more MBA programs aim to redress the balance, we will hopefully see more businesswomen finding their rightful place in the corporate world. Three successful alumni of Ashridge Business School – Grace Yang, Leigh Fisher and Michelle Wright – share their MBA experience.
On the difference the right MBA program can make
Choosing the right MBA program can help women in business hone their skills and build a foundation for a successful career.
Self assurance, in particular, can be an important tool for women in business looking to launch their careers in the corporate world. "The MBA gave me confidence and basic overview knowledge of the key aspects for all businesses – finance, operations, HR and strategy. It meant I could write a business plan that I had confidence in and to feel that I knew how to implement a plan to get me from A to B. The very international class also meant that I gained a great insight into organizational models and cultures around the world," says Wright, who was inspired by the MBA program at Ashridge to set up her own charity, Cause4.
Fisher, who has moved countries and started in a new role after her MBA at Ashridge, agrees, and adds that her MBA experience allowed her to gain an understanding of the concepts, models and frameworks which are relevant to the workplace: "With this has come familiarity with the language of the current business world. This has developed my confidence sufficiently for me to interview effectively and achieve a work placement with a prestigious institution in my former industry, at an entirely different level."
"Before doing the MBA, people found me quite shy," says Yang, who holds the role of vice president (investment banking audit) at JP Morgan. "Having to constantly present to the group was very good for me and I've gained a huge amount of confidence in my ability to present and interact with others. I learnt how to resolve conflicts and find solutions within tight time constraints, which was very challenging. However it is also a true reflection of business life, particularly in an international environment, so it has set me in good stead moving forward," she says.
On whether gender-bias exists in an MBA program
A subject that is all too easily glossed over by many, gender-bias is often a very real thing in the corridors of the world's most established and prestigious schools. The question of whether real progress has been made at business schools and in business is a difficult one.
"The world of business is male oriented and dominated. The world of management training, which has been feeding it intensively for the last 50 years, is a direct result of this gender imbalance. The lecturers have been drawn from the same pool and derive from a previous generation of MBA policy and practice. So yes, MBA programs have been gender biased, more gender resistant I would say. Most probably, they still are, but things are changing," says Fisher.
Wright acknowledges the fact that there are fewer women in MBA classrooms. "In my class there were four women out of 30 so women are definitely in the minority and I would usually see that reflected across most courses," she says. Fisher believes, however, that the global number of women applying for MBA program entry is growing.  "Candidate statistics for the top 100 business schools show increasing percentages of women taking MBA programs. It is still important to note that MBA women still only account for 30% in global terms, though Harvard and Wharton showed 45 and 42% in 2013 and the University of Bath registered 50%," she points out.
Fisher does not believe that the imbalance is just prejudice, but that it is also related to practical questions which also impact on women across the world. "To aspire to an MBA is to belong to a global population segment that values knowledge, education, qualifications and learning. Disposable income and access to funding opportunities are equally important in deciding to take an MBA."
On how an MBA can sharpen business skills
To become successful women in business it has been a long journey for these three, requiring them to acquire and polish their business skills. Ashridge Business School's Personal Impact and Professional Development modules were found to be useful by all three in this process.
 "I work a lot in organizational development and often have to convince organizations to change their structures, models and processes – so these modules were invaluable in thinking about change management and the art of persuasion," adds Wright.
Yang agrees that acquiring business skills forms an invaluable part of the MBA process. "My MBA gave me the confidence and skillset to change function and sector. It would be difficult to do this effectively without an MBA."
"I particularly enjoyed the Personal Impact module, because of its blend of theoretical constructs and practical applications. It was more interactive and 'workshop' style than some of our other modules. It was also based on our individual psychometric evaluations. We were required to not just think about this, but also to engage with each other through these lenses. The personal journey of discovery of oneself in relation to others and how this might enhance overall effectiveness in all aspects of working life," Fisher concludes, "is perhaps the foundation of the value I derived from the Ashridge MBA."
This article is sponsored by Ashridge Business School.