Situated in the Greater Toronto Hamilton Area is McMaster University's DeGroote School of Business.
The business school offers a number of programs, including the 20-month, full-time MBA program; 28-month, full-time MBA with Co-op program; eight-month, full-time Accelerated MBA program; two-year, part-time Accelerated MBA program.
DeGroote School of Business' recruitment and admissions manager, Rita Chen is passionate about helping students reach their career and educational goals, and specializes in storytelling, strategy development, relationship management, and intercultural communications. She shares the stories of some of their top students and alumni.
Student profiles
Christina Screpnechuk joined the MBA with Co-op program in 2018 with the intent to transition into finance. ScrepnechukChristina secured her first co-op work term at Scotiabank in Global Capital Markets as a sales and trading analyst. Now back at DeGroote for her second academic semester, she looks to continue to build her career in capital markets through future co-op work terms. 
Shraeya Jain began her MBA program at DeGroote in 2018. As a qualified engineer, Jain began the first two-years of her career as an electrical engineer at Vedanta Resources Plc, then worked at National Insurance Co. Ltd for close to six years, as an administrative officer, then as an assistant manager. Jain joined DeGroote with the intent to transition again – this time into finance. She won the prestigious Adam Felesky MBA scholarship (valued at US$30,000) and is the Finance Director of the MBA Association.  Now, Jain is pursuing her summer internship at RBC as an internal auditor.
Sean Richardson
Joined the MBA with Co-op program in 2017 where he is specializing in finance.
Richardson is on his third, and final, co-op work term at Deloitte as a Consultant in strategy & operations for public sector transformation). Prior to this role, he pursued co-op work terms at Michael Garron Hospital as a strategic business analyst, and Baxter as a financial analyst. Richardson is the MBA Association's Academic Director, was a part of the winning team at the MBA Games this year and was awarded the Ontario Graduate Scholarship last May.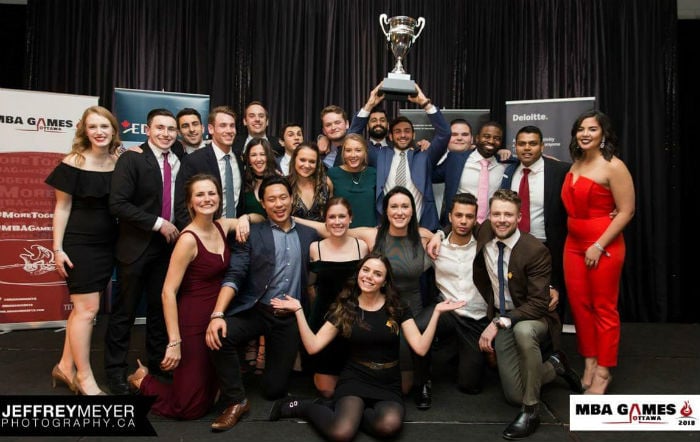 Yuan (Jade) Yang
Yang joined the MBA with Co-op Program in 2017. Before the program, Yang founded a very successful marketing consultancy called Shenyang Zero One Marketing Ltd. Fully intending to come to Canada to continue her career in marketing, Yang actually fell in love with the Health Services Management sector after attending one of DeGroote's "Industry Days." Her first co-op work term was at Sick Kids as an executive resident, her second term was at Baycrest Global Solutions as an Asia market lead, and her third, and final, co-op work term is at 3M as a strategic business development intern in the medical solutions division. She has opted to pursue a General MBA. Yang is also the President of the Women in Management Association at DeGroote.
Alumni
As DeGroote focuses on digital transformation in a time when technology is rapidly influencing business practices, Chen highlights alumni pursuing careers in technology, innovation, and strategy.
Tanvir Bhangoo (MBA '14)
Vice-President of Technology at Freshii, Bhangoo is descried as a Mac lifer, completing his Bachelor of Commerce degree at the university, then joining the DeGroote MBA program in 2013, focusing on innovation and new technology. While at DeGroote, he was a teaching assistant for two courses, a defensive line coach for the McMaster Marauders, and an active participant in case competitions, workshops, and consulting labs.
Post-MBA, Bhangoo worked as the territory manager of retail fuels operations at ExxonMobil for a year. He also co-found and was head of digital marketing & operations at Market Master Team. Bhangoo joined Restaurant Brands International from October 2015 to January 2019, where he worked his way from manager of marketing technology and digital to director of tech projects. 
Kim Dwyer (MBA '12)
Currently employed as the Director of Digital Strategy and Innovation at CIBC, Dwyer joined the MBA with Co-op program, where she focused on information systems and new technology management. She pursued her three co-op work terms at Prescient Digital Media as a web business analyst, PwC Canada as an associate, and Focus Business Consulting as a consultant.
Post-MBA, Dwyer continued full-time as a consultant with Focus Business Consulting before joining PwC as an associate in January 2013. She enjoyed a progressive career at PwC Canada and was employed as a senior manager – technology advisory until May 2019, where she transitioned to her current role at CIBC.
Brandon Watters (MBA '16)
Watters has been director of strategy and planning - enterprise digital transformation at Sun Life Financial since October 2018. A fellow Mac lifer, Watters joined the MBA program the year after completing his bachelor's degree in Engineering.
Watters focused his MBA around financial management and information systems and was part of the student consulting lab. He began his career as a consultant at EY before being promoted to senior consultant in October 2016. He then joined TD as a manager in financial management – enterprise information, and then as a senior manager of data services – enterprise information management.
Students to look out for
According to Chen, MBA with Co-op student Stephanie Ebreo – who will complete her courses in December 2019 is someone to look out for.
Currently on her third, and final, co-op work term at KPMG as a senior management consultant intern for people and change. Prior to this, she pursued co-op work terms at SickKids as an executive resident in corporate strategy and process improvement & innovation, and as an administrative resident for corporate planning and strategy at St. Michael's Hospital.
Stephanie is currently the President of the MBA Association, which oversees the activities of all the other associations at DeGroote. She participated in two case competitions (one of which her team won), the MBA Games (which DeGroote won this year) and was an associate at the Innovation Lab, The Clinic.
Notable female alumni
Sijia (Scarlett) Yang (MBA '14)
Yang used her DeGroote MBA degree to augment her financial skills and experience. Prior to the MBA, she worked in China as an appraiser assistant at China United Assets Appraisal Group Limited. Her first role post-MBA was as a client financial management analyst with Accenture. She then moved to Deloitte in September 2016, where she progressed from senior financial analyst to her current role as a finance manager (FP & A).
Amy Gorth (MBA '18)
Gorth took on different roles in three different industries following her MBA with Co-op program. Firstly, as a client services analyst at Innovation Factory Hamilton, then an administrative resident at South West Regional Cancer Program, and finally a strategic business development intern at 3M.
Post-graduation, Gorth chose to pursue health services management and is now employed as a project consultant at London Health Sciences Centre.
Sarah Lake (MBA '14)
Through the MBA with Co-op program, Lakechose to do two co-op work terms at consumer-packaged goods firms. Firstly, as a category development analyst at SC Johnson and then a sales strategy analyst at PepsiCo.
She was a partner at Focus Business Consulting in her final co-op work term. Lake used these roles to find employment post-graduation at Coty as a national account manager for Walmart and Ecommerce, and then as a trade marketing manager. She is now at Canada Post as an account executive in ecommerce and parcel solutions.
Navneet Makker (MBA '18)
Makker used her MBA degree to transition from a career in science. Prior to the MBA program, she worked at the University of Calgary for two years as a project coordinator for the Respiratory Clinical Trails Centre. During the MBA, she pursued a summer internship as a corporate strategy analyst at William Osler Health System. Since graduating, Makker has been employed as a senior analyst in program and project management at Accenture.  
Britney Hawkins (MBA '18)
Hawkins entered the MBA with Co-op program directly after finishing her undergraduate degree. She pursued her co-op work terms in marketing, with her first work term as a marketing intern at HUB International and her final two work terms at Mastronardi Produce, firstly as a sales intern and then as a category management intern. Mastronardi Produce offered Hawkins a role as a category associate immediately upon her graduation.
Depending on the program, DeGroote classes are made up of 44-54 percent female students