Do you remember the anticipation you felt before starting school? College? We've all been there and come out the other side but that doesn't make the experience any less daunting.
Kesh Patel embarked on the Global MBA program at Alliance Manchester Business School (AMBS) in July of this year. The two-year Global MBA recruits executives from any industry with at least three years' experience with promise of strong career progression.
AMBS' flexible program includes 30 days of teaching, spread across six workshop residentials. Core courses are undertaken at your home center, and electives can be studied at any of the global centers: Dubai, Hong Kong, Manchester, São Paulo, Shanghai and Singapore.
We spoke to Kesh to find out more about how his first semester has gone.
The Manchester Method
As the saying goes, we learn by doing, and AMBS has taken experiential learning to the next level with its curated Manchester Method. Some examples include:
Live business project
Intensive, interactive workshop residentials
Real-world case studies
A simulation project
Group work with a diverse class
Kesh says this method was one of the reasons he chose AMBS. However, he has since admitted that he didn't expect the amount of reading required before arriving on campus, including two online lectures.
He says: "I applied for the course quite late so missed the first online lecture and didn't get my books in time before leaving for the first week on campus. The worry and stress of being behind on the first week of the course was definitely taking its toll."
The first week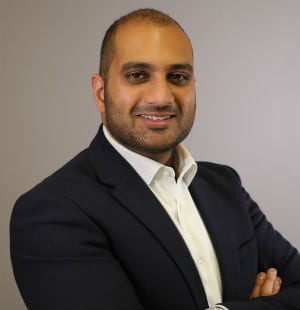 AMBS students undertook an online lecture the day before induction, with students eagerly sending invitations to join WhatsApp groups created for the cohort.
Kesh says: "I was joining groups left right and center, connecting with fellow students the night before, and arranging meeting for lunch before the inductions started."
Day one was all about networking, which Kesh admits was an easy start.
"The buzz of excitement at campus was getting bigger and louder until the shout out for the induction sessions to start.
"The sessions as you would expect, were information overload. They covered everything from student support, study schedules, optional modules and even the fearful topic of plagiarism.
"After the presentations, it was time for some drinks, nibbles and you guessed it – more networking!"
Day two – where the real work began – focused on the Simulation Project, where participants were split into pre-assigned groups in smaller classes for the day.
Kesh says: "The Manchester Method took hold when we were working in groups deciding how we would run a company. Everyone was contributing, making the transition back to studying a lot easier and less frightening."
Wednesday through Friday focused on another module. Participants were again pre-assigned groups, and then listened to lectures in the morning and worked on a group presentation in the afternoon.
Their brief? Write and deliver a presentation on the morning of the final day of classes for the week.
But collaboration isn't always as easy as expected: "Everyone had opinions to bring to the table. Clearly the groups had been organized so everyone was from a different industry and had different responsibilities within their companies.
"In preparation for Friday morning's presentation, we all stayed late on Wednesday and Thursday to prepare. We didn't stay as late as some other groups who were there until 10pm, but we certainly did a few extra hours."
When presentation day arrived, Kesh could feel the nervousness in the room: "Everyone was questioning whether they had done the right thing, if it was up to standard, and what the lecturer would say.
"Our group were second to present and it was all over before we knew it. A couple of questions from the lecturer but nothing we couldn't handle."
Reminiscing
Following a hectic first week, the cohort came together for drinks before returning home. It wasn't until Kesh's train journey to London that he had time to reflect.
"It wasn't as hard as expected. Sure, it was intense, but working in an office environment with a fast approaching deadline is just as intense."
The workload became apparent when Kesh realized how much reading, researching and preparation there was to do for assignments: "But with a bit of planning over the next few days I was able to come up with a good personal study schedule."
Moving forward
As an online MBA, Kesh and his peers will be predominantly located in their respective cities, but this doesn't stop the dialogue between participants and professors – nor does the workload lessen.
"Since the first week, I've had numerous online lectures, calls with my group and a peer study support group call with fellow students.
"I'd say the struggle I've had is the motivation to keep studying into the evening. We all have tough days in the office but motivating yourself to keep studying can be tough. Of course, I'm not the only one feeling like this.
"The WhatsApp groups are constantly being utilized by students around the world and I constantly wake up to a whole stream of messages from peers in a different time zone.
"It will be an interesting couple of months ahead. There are coursework deadlines fast approaching, followed by six days of face to face teaching (with two assessed presentations built into it), followed by a work trip, taking me out of the country and my normal study routine for two-three weeks, before having to submit more coursework."
Choosing AMBS
Kesh says the idea of undertaking an MBA and enrolling on a course had been on the cards for a few years, but he didn't really have the opportunity at his old work.
"They would have wanted me to study it with them and the course they offered didn't meet my requirements regarding accreditation, reputability, being well-ranked."
"I went to the QS MBA Tour in March 2018 and that was the start of my research phase. From there, I went to a number of open evenings, online webinars and researched various universities.
"In the fall of 2018, I went to the next QS MBA Tour and narrowed down my choices to a handful, then settled on Manchester for many reasons.
"In October 2018 I pitched the idea to my new line manager who was on board with it, but it took a while to get company sign off. In December I applied for the January start at Manchester, but I didn't have approval from the company so had to defer to the July intake."