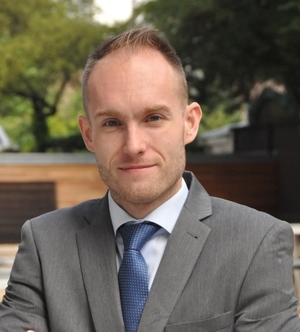 Karoly Cserfalvi, originally from Hungary, is an MBA student at Nyenrode Business University. With a BA in Tourism and an MA in HR and Organization, Karoly's career before his MBA culminated in a position as a project manager at Citi Bank. He speaks to TopMBA.com about his experiences at Nyenrode, and the innovative food technology project he and three other students developed during their course (you can find out more about the group's project here)
Why did you choose Nyenrode for your MBA, and what have been the highlights of the program so far?
I was attracted to Nyenrode because of their culture, especially the small class size, which has really enhanced my learning experience. I knew I wanted to move abroad, and after some consideration I thought it was the right time to do an MBA.
One of the highlights has been the 'meet the CEO' sessions, where we meet CEOs of high-profile companies and present our ideas for a business challenge we've identified for them.
Nutreco was one of the companies we worked for, who produce animal feed, which isn't usually described as the most exciting of industries. We were reluctant to explore this industry at first, and our professor had to push us into it.  After picking it up she said, 'you guys will never regret taking this project on'.
We presented our solution to the business problem we identified to the CEO, who later called us back to meet with the executive board. Then, we were invited to the Seeds and Chips summit in Milan where we presented our proposed solution. Now we really understand what our professor meant when she said we wouldn't regret it.
Can you tell me a bit more about the solution you developed for Nutreco?
I think what made our solution special was that we didn't just focus on the company itself in our research. We looked at financial results and company data of course, but also broadened the perspective and looked at major challenges the food industry faces.
By looking at the whole food chain we identified that trust is a big issue, the fact that when buying certain products from the supermarket, people are unsure of where it comes from.
In our proposal we focused on how technology – especially blockchain – can enhance trust and help companies, and looked at things from an ecosystem perspective rather than one company. Nutreco alone may not solve this issue, but by building a chain of trust and using blockchain to track the food from the animal's birth to the consumer's plate, then that will give you a competitive edge.
What was the Seeds and Chips summit like?
The Seeds and Chips summit is the biggest food technology event globally, with keynote speakers such as [former United States Secretary of State] John Kerry. It was a great event. We presented our solution idea in the main hall to an audience of industry experts, with the likes of Carrefour and IBM, as well as smaller companies operating in different countries, so there was a wide variety of people represented.
We had the opportunity to speak at the conference through our professor Désirée van Gorp, who introduced us to Nyenrode alumna, Princess Viktoria de Bourbon de Parma. She spoke at the summit and is passionate about abolishing child hunger and empowering small-hold farmers. As a former Nyenrode student she was listened to our ideas and helped us get onto the conference agenda.
Was there anything that surprised you on your MBA course?
With a group of people from very different backgrounds and countries, coming together isn't always easy, but on the other hand it's good to know everyone's experiencing similar challenges and supports one other.
Once I moved abroad and began the whole experience, I wasn't sure if I would find people that would be able to support me, but there was a great sense of community and team spirit amongst the students, and within a few months you develop a new life.
I found education in the Netherlands is much more practical than what I experienced in Hungary, where more emphasis is on theory. Here it's about understanding and knowing the theory, but more about applying it.
What advice would you give to people who are either considering doing an MBA or MBA students who want to do a similar project to the one you've been working on?
The MBA is often seen as a career boost; people hope to fast-track their progression, and that may very well be true, if you put in a lot of work. But what's also important is how much you learn about yourself, about your values, and about what's important for you.
I would say try and do something a bit off the beaten path. Sometimes good opportunities can come from totally unexpected directions and if you choose a project distanced from personal interests, you'll learn something you never would have considered before. And after all, an MBA is about learning new things.