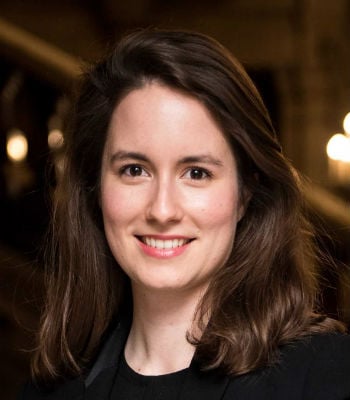 Developing an organization around a passion is a dream role many of us strive to fulfil. From technology to performing arts, there are many   flourishing businesses that retain this at its ethos.
 FEDORA - The European Circle of Philanthropists of Opera and Ballet, a European Platform dedicated to supporting and promoting innovation in opera and ballet, is such an organization.
 Edilia Gänz, Director of FEDORA, incorporates her passion for ballet and opera in her day-to-day role. Following her three-year bachelor's degree in Business Administration at the University of Mannheim, Germany, she decided to specialize, and undertook an MSc in Marketing and Creativity at ESCP Europe in London and Paris.
 But was merging marketing and creativity with opera and ballet always on the cards for Gänz? She says, "I wanted to do that very early on as a teenager. I already knew I wanted to go into the cultural field. My decision was to gain knowledge and skills on the business side and apply that in the field I'm personally passionate about - culture."
 Merging marketing and creativity
 A lot of thought goes into selecting the perfect business school, but Gänz couldn't be happier when looking back at her MSc. She says, "ESCP Europe Business School felt like the right choice because it has this European positioning and the European outlook with different campuses where you can have different experiences and gain insights from different professors.
 "The content of the master's was very appealing because it offered this new approach to marketing and creativity, and very hands-on business cases where we could apply the knowledge we learned in class.
"Field industry experts shared their knowledge about different fields and applied business in different areas. The professors' lessons about creativity marketing gave us a new perspective on marketing, like the customer-centric approach which starts with the customer's point of view, and it changed the way I dealt with marketing.
"The program isn't just for culture, I turned it into that for myself. The theories and cases you learn aren't bound to one field and that's what makes it so interesting, because you have guest speakers coming in from different industries sharing their insights with you.
"It's very diverse and that's what makes it so enriching. The people in your class come from different backgrounds and areas of study and it's in working together you realize there are different solutions to a problem and you develop complementary approaches and a richer end result."
Gänz quickly understood the benefits of a globally diverse team, an element she continues to promote in her role. She says, "Learning about the international aspect helped me realize recruiting an international team adds extreme value, harnessing diversity to be more innovative. You're not just talking to one nationality across the table, as donors from all over the world support these international art forms."
FEDORA'S founding
Ballet and opera have held a special place in the hearts of many for generations, but these artforms are now in need of renewal and rejuvenation, not just for the audience, but for artists and the work produced.
"We wanted to encourage opera houses to not be risk-averse and to give emerging artists the chance to develop new work that reflects today's society, today's challenges as a human being, and to encourage the exploration of new ways of artistic expression."
Creativity should be celebrated, and FEDORA certainly believes in this ethos. And what better way to capture the hearts and minds of talented performers and creators than with the opportunity to showcase their work? Gänz says, "Our President Jérôme-François Zieseniss had the brilliant idea of developing a prize competition – the now established FEDORA – VAN CLEEF & ARPELS Prize for Ballet (€100,000) and FEDORA – GENERALI Prize for Opera (€150,000).
"Our major sponsors and trusted partners share this vision of encouraging innovation and creativity in the field of opera and ballet. And since these are fields that live and breathe these elements, it was about harnessing that potential and giving them the chance and funding needed to bring new projects to life. That's what makes this competition so unique, as the projects we receive aren't projects that have been realized yet."
The importance of fundraising
FEDORA is also about advocating philanthropy in Europe and beyond. Traditionally, opera houses and ballet companies' key resources came from government support, but, unfortunately, culture is one of the first things to go with budget cuts.
Gänz says, "One of the new key pillars to contribute to the sustainability of these artforms is philanthropy and private giving.
"In Anglo-Saxon countries, especially in the US, private giving is more advanced and more integrated in the culture, because the government pulled out much earlier.
"Whereas in Scandinavian or Germanic countries, where government support is extremely active, you still have a mentality and cultural approach of, 'I'm paying taxes, why should I make donations, too?'
 "So, it's important to speak with the audience. We need an audience, and they should be pulled in to see what it takes to create an opera or ballet, that there are people and departments working together to reach the goal of the curtain rising every night."
Although not always the main goal within an organization, receiving commendation for hard work and determination can be the icing on the cake, particularly when it helps with fundraising.
Gänz says, "So far we've invested one million euros in 10 new innovative artistic projects, co-produced by 64 cultural institutions, in 15 countries. We're delighted that over 200 opera and ballet performances have taken place that were attended by more than 100,000 young people. This is possible through the generous support of our prize sponsors Generali and Van Cleef & Arpels. The European Union saw the novel approach of the privately funded prize competition, giving artistic creation a stage and a chance to develop new ideas.
"The Creative Europe funding program of the EU selected our organization to help scale our activities and build a unique European platform that showcases new operas and ballets that haven't been staged yet. While harnessing the digital shift, the audience will discover what it takes to build a new opera or ballet, who is involved in this creation process and how a project is brought to life starting with a strong creative idea."
Looking to the future
FEDORA turns five in 2019, and Gänz beams with excitement at how the organization has progressed. She says, "It's a big milestone. Over the past four years we built a network of 80 opera houses, festivals, ballet companies and friends associations in 20 countries.
"Moreover, we built partnerships with major donors from the private sector and we're very grateful for the support and trust of Docteur Léone Noëlle Meyer, Gianmarco Monsellato, the King Baudouin Foundation, the Swiss Philanthropy Foundation, Mangopay, the AVL Cultural Foundation, Carlara International, Drieux-Combalouzier, Drooms and Graf von Faber-Castell."
"Our goal now is to scale the competition and build new prize categories. There will be an education prize next year, and a digital prize the following year."
"In the fourth year, we're going to launch in collaboration with our expert partner Transnational Giving Europe, an online transnational giving app which allows international donors to make donations to a cause close to their heart – and they'll receive a tax receipt valid in their country automatically. We want to harness this digital shift to take away borders of giving which are administrative."
"Thanks to the co-funding of the Creative Europe program of the EU, FEDORA will be the first non-profit organization to test-launch this innovative app and the idea is to make it scalable to all non-profit sectors in Europe. Therefore, we are sharing best practices and are in constant dialogue with other organizations in other fields such as Common Goal. We're really excited about this and are already working on launching this by 2020."