Christmas is the most joyful time of year. People are happier and kinder, and there's a magic feeling in the air.
Some of us start celebrating the holidays in November, while others only start to feel the fizz of excitement towards the middle of December. However, at Bronner's CHRISTmas Wonderland in Frankenmuth, Michigan, 'tis the season all year long.
Open 361 days a year (closing only on Easter Sunday, Thanksgiving, Christmas Day and New Year's Day), Bronner's has brought the wonder of the Christmas season to customers since the 1940s.
But what makes the business special? How does it survive? Is Christmas still exciting when it comes around? We had so many questions.
Family first
The family-run business began in 1945, when Wally Bronner – a window trimmer and artist – was 18 years old.
An idea for a potential Christmas business in Frankenmuth came when he was asked to paint panels for some merchants. His panels were so well received he knew he could combine his passion with the magic of Christmas.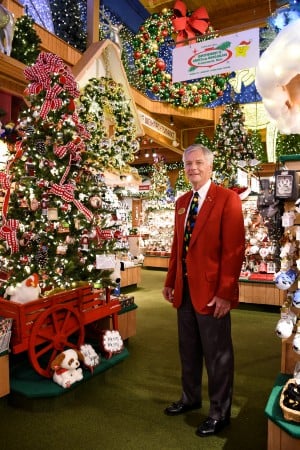 Fast forward 74 years, and Bronner's CHRISTmas Wonderland is the world's largest Christmas store. Wayne Bronner (Wally's son), president and CEO of Bronner's, admits he always wanted to be in the business: "It's a real family business. We have three of the four siblings involved – my two sisters Carla and Maria are vice presidents, and they help out tremendously.
"My son is the first of the third generation at Bronner's to be involved in the business."
The family element is a huge part of the business, but Wayne admits the business is bustling with quite the army of employees during their peak time.
He said: "We have about 320,000sqft under the roof – the visitor sees about 120,000sqft – and the rest of it is warehouse. We buy a lot of merchandise, so we have to buy a lot of inventory and have room to store it.
"We sell 50,000 different items; two thirds of them retail for less than US$20. We have 750 people working now at our peak time, can park 1,500 vehicles, and we get approximately two million visitors per year."
Christmas all year long
Although the business is open all year round, the store does have dips in visitors and sales when it's not Christmastime. However, it's not the summer months which tend to be the quietest.
Instead, the business is quieter in February and March. However, as the snow melts in March and April people start to travel and this results in an intriguing upturn in visitors.
Wayne said: "Michigan is a very desirable state, so customers like to tie this in. Customers show visitors from foreign countries what the world's largest Christmas store is like, so we're very busy during the summer season and then in the fall it ramps up to peak at Christmas time.
"There's not a thing in the store that people actually need, but there's a lot of things they want, so it's a matter of spending their discretionary income and they enjoy doing that."
Inventory to look out for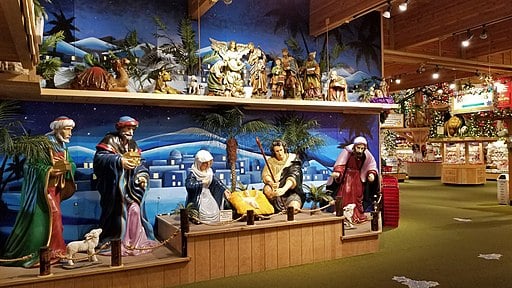 The beauty of Bronner's is it's open all year round, and people are very much intrigued by the idea of it. Wayne said: "People come here, and they don't know what they want, but they know Bronner's is going to have a tremendous selection and they're intrigued by the possibilities and they end up making a purchase."
Although there are 50,000 items available at Bronner's, Wayne admits his favorite is a bespoke classic – a round 10cmx4in Christmas ornament – made in Hungary and imagined by his father many, many years ago.
He said: "The story is my father painted the names of the team members' children on them at a Christmas party when we were much, much smaller.
"People said he should consider selling them in the store, and decades later, they continue to be one of our best sellers. For roughly US$16 you can have your name painted on a Christmas ball and it can be handed down as an heirloom."
Bronner's takes pride in its classic ornaments, but Wayne admits around one-third of the 50,000 items are new every year – and a lot of items have their cycle.
"Some are classics, but other items are popular for three or four years and then they fade in popularity and new ones come in."
In a business of this nature, it's important to stay active in the trends of the industry according to Wayne: "Ornaments with teddy bears on them aren't popular [now], whereas items with sloths and llamas are very popular and trendy."
An online world
When a lot of businesses do well, they look to expand with locations across the globe, but Wayne told me Bronner's won't do that: "We sell through the internet, and we produce, print, and mail three million catalogues across the country, so we have many orders that come in.
"In our shipping building, they're putting out 4-5,000 packages per day. Of the 750 people working for us, there are probably 200 working in the catalogue and shipping area."
A personal side to Christmas
It's easy to think that being surrounded by festive cheeriness all year round could make Christmas a little less magical, but Wayne stressed this isn't the case.
"Christmas is our business, a year-round business, but then, all of a sudden, a switch goes off in early December and there's a personal side to Christmas.
"We enjoy celebrating a personal side as well as a business side. When you get down to it, Christmas is a very positive time of year. It's all about friends, family, relatives, and the birth of Jesus Christ. There's really nothing negative associated with Christmas."
But is it tiring being surrounded by happiness and joy throughout the year?
"Not really, it's enjoyable. It's a very cheery business. People come in and they're very happy and they leave and they're very happy."
Read more CEO interviews here:
How Many Top CEOs Have an MBA?
Female Business Owners Receive Less Investor Funding Than Men. This Woman Is Trying to Change That