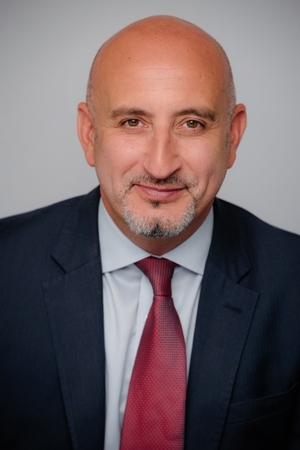 Simon Mercado is the Dean/Director of ESCP Europe Business School (London), the world's oldest business school with campuses in Berlin, London, Madrid, Paris, Turin and Warsaw. ESCP Europe ranked very highly in QS's recent business master's rankings and won the 'Business School of the Year' award at the Times Higher Education [THE] Awards 2018. We speak with Mercado about how ESCP Europe's London campus is preparing for Brexit, including their 'Rethinking Europe' events, a series of talks focusing on Brexit's impact on the higher education sector and beyond.
What are your thoughts on Brexit and Higher Education?
Most business school leaders would argue full EU member status makes it easier to sell courses internationally, access other EU markets as providers, and employ and/or collaborate with European experts. It also opens critical funding streams for research (e.g. Horizon 2020) and opportunities for faculty and students to gain international experience through longstanding programs (e.g. Erasmus+). This has a positive impact on our academic standards and our economic and social contribution. Some benefits can be felt outside of the EU but are subject to negotiation and a softer form of Brexit.
What is the 'Rethinking Europe' Events Series?
This program was inspired by the late Mme. Nicole Fontaine, former President of the European Parliament, who worked closely with ESCP Europe in developing the book, Brexit: An Opportunity? Re-Thinking Europe, which was at the heart of our inaugural event in November 2017. Since then we have run events at the London campus, in Westminster, and other ESCP Europe campuses, touching on themes like 'Brexit and Migration' and 'Brexit and Higher Education'.
All our students focus closely on EU affairs. Our [email protected] seminar on our Master in Management (MIM) takes around 800 students to Brussels for a negotiation simulation each year. Since the referendum in 2016, we have widened our activity on this topic, supporting executive development with companies such as Saint-Gobain and working closely with the French Chamber of Commerce in Great Britain and its Brexit forum.  
Have you felt the effects of an impending Brexit at ESCP Europe's London campus yet?
I think in many ways our position is representative of the wider UK sector. Some momentum has been lost in many business sectors we connect with and specific investment projects have gone into limbo. Confidence has been shaken over the future of the UK economy and graduate prospects, especially in a hard Brexit scenario.
There are EU nationals on faculty and in administration teams upset at developments and concerned over their future. Some of our students are confused about what rule changes might affect them. Conversely, the fall in the value of the pound has given a little bit of a boost to student numbers.  
Beyond this however, our position is quite different. We operate as part of a European school group with largely continental presence. The worries across UK Higher Education (UKHE) about issues like Erasmus+ participation, Horizon 2020 participation, and possible international fee/visa status for EU nationals don't present themselves in the same way for us. This reflects our European legal personality and our operation outside of the UK University fee regime. Our students cross borders as part of the same school and degree program; there is no dependency on inter-institutional mobility – although we like to encourage it – or Erasmus funding.
What do you feel are the biggest challenges ESCP Europe might face in a post-Brexit UK?
Our ability to offer world-class rotational degree programs that move students from one European location to the next is massively assisted by the European market framework. A constant cross-border flow of students, faculty, capital and educational service is eased by the basic freedoms of the Single Market and the mutual recognition of educational qualifications that accompanies this. A softer variant of Brexit will assist, especially one committed to preserving freedom of movement for young people for the purpose of education and training.
In all scenarios, our major challenge will be to ensure the school continues to form a bridge between the UK and Europe. We're a successful European institution in the UK and a UKHE with a beating heart in Paris and wider Europe. Our mission in the UK will remain focused on connecting our economies and management talent, and on offering a home for those looking to invest in their European identities and in a European future.
Can you see any positive opportunities to be taken from Brexit for ESCP Europe?
ESCP Europe can play a role in Brexit that no other UKHE can. We can provide a place where European identity can be built, as well as a point of entry to European higher education. We can function as a center of expertise on Europe and as a connection to the continent, especially for the UK business community and for young people proud of their European identity.
What do you think makes ESCP such a high-achieving business school, and how much does your international outlook contribute to this?
I think our international outlook is pivotal to our success. This is manifested in our presence in six countries, our rotational degree programs, and our commitment to international management education. We have a clear and distinct mission focused on the production of tomorrow's international business leaders and are skilled at preparing participants for what we see as "connected" business futures. 
Our approach to management education consciously blends humanities, languages and management education to produce graduates with a deep understanding of the role of business in society and an ability to manage across cultures.
The school also demonstrates it can marry its status as the oldest business school in the world with innovation. Our THE award was based on our responsiveness to major economic, political and technological shifts. I'm proud that many of our pioneering initiatives have their root in London where we are building programs and centers with a strong emphasis on digital transformation, health, energy and more.
How does the strong sense of European identity contribute to the student experience at ESCP?
We are an international business school with a strong sense of European identity. Over 200 years, the school has grown from roots in France to the pan-European institution it is today. Our strategic presence across Europe underscores this and provides scope for a pan-European educational experience.
All our students' study in at least two ESCP Europe campuses and are taught by faculty integrated into European academic departments. We aren't just European by operation, but consciously celebrate our European identity. This isn't to the exclusion of our extensive global links; our European identity combines with global perspective and reach.
What do you feel international students bring to the UK?
Student flow between campuses has never been stronger. This year 1,500 students will complete study blocs at our campus in London and we have European students mixing with those from the Americas, Africa and Asia. International students contribute to a diverse student body and a thriving society, culture and economy – on campus, in our city, and across the UK. There must be fuller recognition of the positive impact played here by international students and appropriate action by government. This is one area where Brexit brings both risk and concern.