Luisa Rouillard is a co-founder of The Virtual Lab, a technology company that creates virtual reality (VR) content, incorporating it with multi-sensory, hyper-reality systems hardware to provide a completely immersive experience.
A natural entrepreneur, Luisa founded two organizations while studying for her undergraduate B.Com in marketing at the University of Johannesburg. In her first year she founded NGO Friends of Alexandra, which is still running, and in her second year she founded marketing agency Jack & Jill Marketing & Events, later rebranded as 'la lash'. After five years at the agency, Luisa decided to pursue an MBA at ESMT Berlin in 2012.
We speak to her about her MBA experiences and her subsequent journey to become a co-founder of The Virtual Lab.
What made you decide to study for an MBA, and why did you choose ESMT?
I had a craving to study again and wanted to leave South Africa to establish a footing in Europe, obviously the network you build during an MBA is great for that.
I'm very interested in sustainable solutions and I liked that ESMT had a sustainability track. I also have a German background, so I thought it would be beneficial to go back to Germany.
I really wanted to do a one-year program as I like fully immersing myself in study. As I self-financed, taking one year off to do an intense MBA was more practical.
What would you say were the highlights of your MBA experience, and what were the challenges?
I think the field trip to Silicon Valley was a real highlight since I have an entrepreneurial background. We experienced life within local companies and met people working in the Valley which was great, I doubt I'd have achieved that if I went on my own.
I also assisted in social entrepreneurship in India, a consultancy project with a low-budget power plant. Plus, the faculty was awesome, I'm still in contact with some of the lecturers, so the network I built was a benefit.
In hindsight I don't know if I'd do a one-year course again. I'm generally very curious and although what you learn is amazing you don't have the time to deep-dive into everything. 
How did your career progress after you graduated from ESMT?
When I graduated, I decided to pursue consultancy. I lined up interviews with McKinsey and others, and while preparing I started working on a start-up competition as a consultant for the European Commission. This was great because it helped me build an even stronger European network.
From there, I met the founder of Startupbootcamp, an accelerator program where I worked as a Chief Operating Officer for a year. After that I established – along with two other people – the German Tech Entrepreneurship Centre, which was based at ESMT for the first year. I then met the Virtual Lab team through GTEC and joined as the fourth co-founder.
How was the idea for The Virtual Lab born?
The Virtual Lab was a spin-off of a PR company based in Italy, which was founded by a co-founder of mine. One of their clients was Eli Lilly, who wanted to do something new and innovative for a medical conference. They connected with my second co-founder, our CTO, who had previously created a VR experience showing the journey of skin disease development. Scientists and doctors were able to interact with this experience and 'cure' the condition using drugs from Eli Lilly. So, at first, this was an interactive educational product.
Our third co-founder Jacopo, who also studied at ESMT, was the project manager and brought me on board. The VR interest was clear and the quality we were producing was great, but we felt that a focus on building by demand for each client was more suited to a consulting model, not a scalable business.
By taking the profits and pumping them into the company to develop a product for the B2C market, we created VHyper, a six-axis motion chair you sit on. The VHyper has a multi-sensory wall in front of it which emits heating and cooling and we're busy working on its capacity to emit smells. This is paired with content movies, around 10-15 minutes in length, which create an immersive experience for users, speaking to all of their senses.
What are the major projects you are working on currently?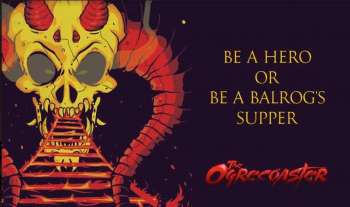 The Ogrecoaster is our prototype, it's the first content we built that could be experienced on the VHyper. It's a hyper-reality cinematic experience, where players travel through a magical world filled with characters like ogres, balrogs and dragons.
We primarily built it to test the hardware as there were a lot of elements freely available, for instance, characters from Lord of The Rings, so we could use them without creating everything from scratch. We built it over three months, exhibiting it in Berlin and then travelling to New York and LA with it.
The feedback from users was incredible, even though The Ogrecoaster was only a test, so we're developing it further. It was single-player and now we're turning it into a multi-player game, as we found from testing that people want to experience it with friends or family.
We're now working on converting old movies into a VR experience, the next one is Fantastic Voyage from 1966. The goal is that youngsters interested in VR will want to experience it, but we can also speak to another generation. Parents might say, "Yeah, we remember this movie, we'll come check it out with you".
Do you see this social aspect as part of the future of the VR market?
Absolutely, I think even though you're wearing the glasses and escaping from the real world, humans always want to experience things collectively. The great thing is we can still hear and see each other, so as different avatars, we can still experience it together.
We also want to develop this to be location based. We don't expect people to buy this chair for their home, it would be in shopping malls and cinemas or even airports. We're now busy preparing an installation at Munich airport for December. We also want to expand into Europe, we see France as an even bigger market than Germany for VR currently.
What advice would you give to fellow MBA graduates, or current MBA students, who either want to start their own businesses or get involved in the world of start-ups?
I'd say to pick a school with a good entrepreneurial background so you can tap into that alumni network, and get involved in entrepreneurship clubs to connect with the field. You can't expect an MBA program to deliver every connection you need but you can really leverage the business school you're studying at to build crucial contacts.