Blog Posts with tag 'Skype'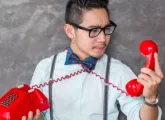 Looking for some advice on your MBA interview? Sameer Kamat explains the strengths and weaknesses of an in-person vs telephone vs Skype interview. 
Are you nervous about your MBA interview over Skype? Guest blogger Ryan Hickey calms your fears with these seven interview tips. 
There is no content in this category to be shown.