The healthcare sector is a fascinating industry to be a part of, but few could have prepared for the chaos the Covid-19 pandemic would bring – with hospitals taking the brunt of it on the frontline.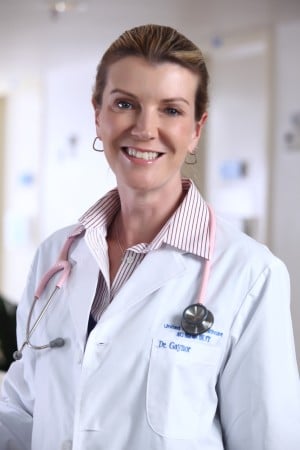 Dr. Kate Gaynor, ESMT Berlin Executive Transition Program alumna (Class of 2019), is the managing director of the United Family Healthcare hospital in Guangzhou, China.
TopMBA spoke with Kate to find out what it's really like to run a hospital in the middle of a global pandemic.
Initial contact with the disease
As a novel virus, healthcare professionals across the globe were thrown in deep water in how to handle the disease.
Kate said they became aware of the gravity of the situation in the first week of January: "At first, given my background in public health and epidemiology, I was fascinated to watch the emergence of a new infectious disease, but as more concerning reports came out about the sad situation in Wuhan, we all became more worried about the potential impact on us in Guangzhou.
"We held a drill on January 10 to practice how we would handle a patient with cough and fever coming from Wuhan."
Hospitals in China were the first to come into contact with the deadly disease, and Kate said the Lunar New Year holiday – an important holiday where millions travel to be with family – at the end of January really saw the outbreak take off.
She said: "The government extended the official holiday, but most of our staff that had been away still came back to work.
"While many people were staying home and businesses were closed, we were working every day. Our purchasing team was working all night to secure personal protective equipment. Everyone was an essential part of the response, including our housekeepers who need to follow strict infectious disease control protocols to help keep us all safe. Everyone has been extra supportive and appreciative of their colleagues."
For now, Kate says community transmission is under control in China, with the focus shifted to preventing imported cases.
She said: "Things are gradually becoming more normal and we have been able to resume many routine services. Still, we remain vigilant and maintain enhanced screening procedures. A second wave of infections could spread if protections are relaxed too soon.
"Throughout the crisis we have continued to move forward with our plans for a new hospital in the nearby city of Shenzhen, which we still intend to open in 2021."
Getting an MBA at 70: Why You're Never Too Old for Business School
The day-to-day at the hospital
Kate enjoys her role at the United Family Healthcare hospital whereby she contributed to its development and design and worked through the challenge of leading it through a rapid growth phase.
She said: "I thrive on the diversity of the GM role. It keeps your brain nimble when you have to pivot from working on a budget spreadsheet in Excel to dealing with a sensitive staff management issue with HR to discussing the design of an upcoming marketing campaign.
"And at any point during the day you might be interrupted by the news that the MRI machine has just gone down or that a government delegation has arrived for an unannounced facility inspection.
"I am also a licensed physician and still see patients one afternoon a week. This helps keep up my skills in clinical medicine, but also provides perspective on how our providers and patients experience the hospital."
Is the ETP worthwhile?
ETP came to Kate's attention when she was about to step up from managing the clinic operations into the role of hospital GM for the new facility. She said: "The description of the target student was pretty much me. The timing seemed almost uncanny. I can honestly say that I feel more capable and confident as a GM after ETP."
Kate appreciates why busy executives may contemplate whether it's worth taking three one-week periods away from their job for training – but she says ETP packs in the value, and spending time at ESMT Berlin is an added bonus.
She said: "The structure of the modules was quite logical and effective for me. Remember that the goal is to get you ready for a higher level of management."
Kate summarizes the course as such:
The first module is basically a review of core managerial competencies
The second module gets more intellectual, focusing on strategy and decision-making – how to think like a GM
The last module focuses on leadership and personal development – how to act like a GM
Although the professors and material are excellent according to Kate, she said stands it's the students themselves that really stand out and are a tremendous resource.
She said: "Classmates come from all around the world and bring great depth and breadth of professional experience to the table, so we got to discuss many real-world problems and examples from a variety of industries.
"ETP cultivates a supportive and open learning environment where participants can give each other honest feedback. I still run things by some of my classmates when I have an issue, and many of us are looking forward to reuniting at ETP's yearly salon."
My First Semester: Alliance Manchester Business School
Read more about Covid-19
Everything Students Need to Know About the Novel Coronavirus
Confused About Coronavirus? Imperial College Launches Free Covid-19 Course
Wharton Offers Course on Consequences of Coronavirus Crisis
Discovering where to study
Is Postgraduate Education Still Worth It During a Global Recession?
Cambridge University: Online Only Lectures Until Summer 2021
Imperial College Business School Holds Virtual MSc Information Session
What to Consider When Comparing Universities Online
How to Choose a Business School Without Leaving the House
Comparing Virtual Tours of Top Business Schools
Why Higher Education is Still Necessary in Times of Change
Why Technology Can Save University Enrolment in Trying Times
QS digital events
How to Prepare For a QS Digital Event
How to Impress MBA Recruiters at Home
How to Navigate Your University Search During Covid-19
Why Aspiring Grad Students Should Attend HE Events
Coronavirus Advice for In-Person QS Events
Admissions advice
University Admissions: Coronavirus Hub
Business School Admissions: Coronavirus Hub
How Will the New Clearing Process Affect Students?
'We're Working to Ensure Candidate Applications Aren't Disrupted': Instagram Live with Imperial College Business School
Universities Changing Tuition Fees in Response to Coronavirus
How Covid-19 Is Affecting Wharton MBA Applications
Online Resources to Use in Your MBA Application
UK Government to Cap University Admissions: Will You Be Affected?
How To Defer Your University Offer In the UK
How To Defer Your University Offer In the US
How to Defer Your University Offer in Canada
How To Defer Your University Offer In Australia
Wharton Holds First Virtual Campus Tour For Students Stuck at Home
Entrance tests & exams
Six Tips to Ace the At-Home GRE and GMAT
INSEAD Accepting Applications Without the GMAT Due to Coronavirus
Can't Take TOEFL? Duolingo Might Offer Alternative
How to Take the GRE and GMAT at Home
China's National University Entrance Exam Will Go Ahead in July
Studying online
80% of UK Students Struggling Financially Due to COVID-19
Business As Usual: ESCP Replaces In-Person Project With Online Version
Why Coronavirus Will Cause an Ed-Tech Boom
Should UK Students Get A Refund For The Academic Year?
Majority of International Students Happy to Study Online
Benefits of Online Degrees, According to Students
How to Successfully Work From Home
How to Organize Your Routine When Working From Home
How to Set Up Your Home Office When Studying Your MBA
How to Stay Focused When Studying Your MBA at Home
How to Stay Engaged While Studying Online
75 Percent of Students Expect Lower Tuition Fees For Studying Online
9 Top Universities Offering Free Online Courses
Why Hybrid Teaching Might Be the Future of Online Courses
UK Students Will Pay Full Tuition Fees If Classes Remain Online, Say Government
10 Online Courses to Boost Your Business Curriculum
Life in lockdown
Quiz: Which Quarantine Cliché Are You?
Meet the Charity Helping International Students Left Homeless By COVID-19
Re-opening Businesses in COVID-19: Pros and Cons
What It's Like Being in B-school During the Covid-19 Pandemic
Life Under Quarantine: How Coronavirus is Affecting University Students
Coronavirus: Life is Changing on Campus in the United States
25 Productive Things To Do While Social Distancing
Five Inventive Things B-School Students Can Do While Social Distancing
How to Keep Employee Morale High While Working From Home
How UK Students Can Help Out During the Coronavirus Crisis
9 Books All B-School Candidates Should Read While Social Distancing
How to Avoid Back Pain When Working From Home, According to a Chiropractor
Business School Professors Recommend Activities to Pass the Time in the Pandemic
Staying healthy
Five Ways to Look After Your Mental Health in Lockdown
How Can Students Stay Healthy At Home?
Should You Try to 'Improve Yourself' in Quarantine?
Fun and Unusual Ways Students are Staying Active in Quarantine
How You Can Stay Happy and Healthy While Studying at Home
Careers advice
The 'New Normal': Why Digital Skills Matter More Than Ever
The EdTech Sector Grows as Other Industries Take a Hit from the Coronavirus Crisis
Bounce Back Loans: Everything You Need to Know for Your Small Business
Staying Hopeful: MBA Grads on Job Hunting During a Recession
What Does Coronavirus Mean For The Hospitality Industry?
How to Adapt Your Small Business During a Pandemic
How to Get Hired Without Leaving the House
How 2020 Graduates Can Find Jobs Amid Coronavirus
Everything Students Need to Know About Virtual Internships
Staying Afloat: UK Small Business Owners on Adapting to a Pandemic
How My B-School Experience Is Helping Me Run a Hospital During Covid-19
Summer Internships Are Going Online
Safeguarding Talent During Coronavirus: Will Internships Go Digital?