Articles with tag 'finding a job'
'
TOP
MBA
finding a job by date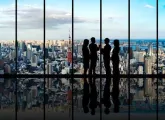 Ever wondered which city in America you should move to to kick-start or liven up your career after b-school? Don't worry - we've got you covered. 
We spoke with the Director of Admissions at UCI Paul Merage School of Business to find out why a school's location can affect employment opportunities after graduating with an MBA. 
Want your business degree to help you have a positive impact on the world? Here are some entrepreneurs who've done just that.