Articles with tag 'MOOCs'
'
24 May 2017
Current use suggests MOOCs are more about widening access and allowing students to 'try before they buy' than disrupting the MBA degree market.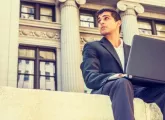 09 Jun 2016
While there is a strong case for distance learning, do benefits of traditional learning, such as networking, outweigh any potential financial savings?
06 May 2016
Working with leading schools, one HBS alum hopes to bring 'Ivy League-standard' professional business education to the masses with a new online school.
16 Mar 2016
University of the People aims to meet demand for a tuition-free online MBA with program backed by volunteers from NYU Stern, INSEAD and Oxford Saïd.